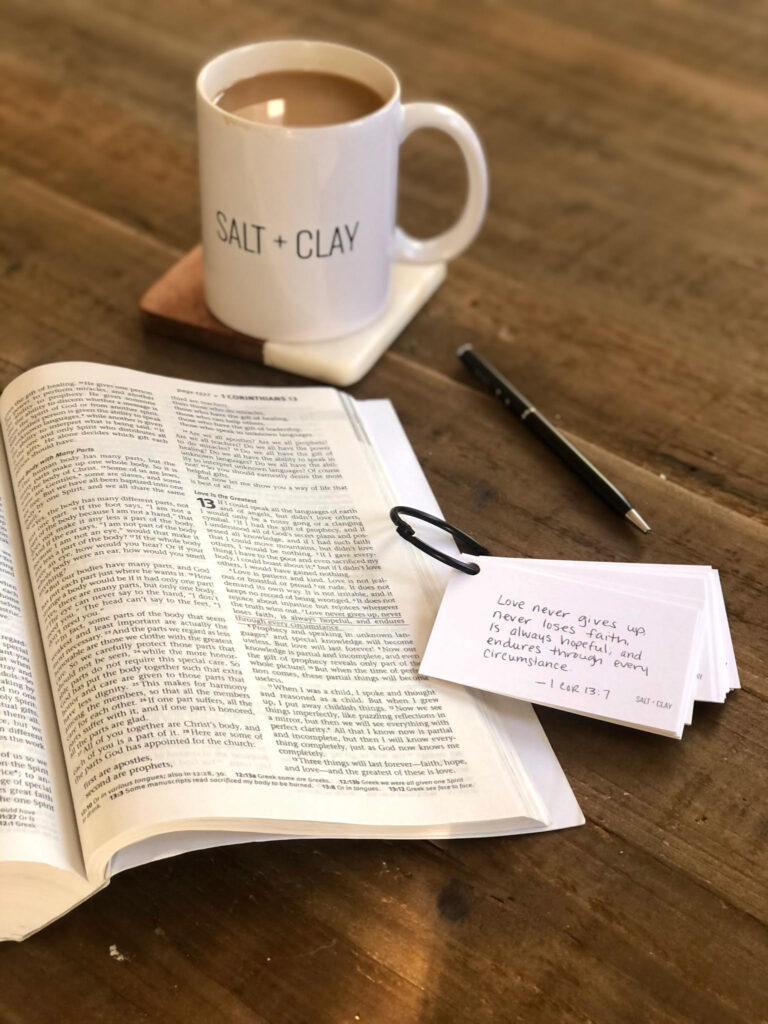 I want to send a little encouragement to those who have been on this Bible Memory journey this year and commend you on the effort you are making. Even if you feel like it's not going the best it could, any effort you put towards this will be fruitful. Plus, I believe the Lord sees your heart and is so beyond pleased with you and your desire to be more like Him!
I've been thinking a lot about this halfway point. Revisiting some of the commitments I made back at the beginning of the year when I was resolute to take this year by the horns and press into all that God has for me. I'm not sure I can still say I've taken that bull by the horns completely. There are short spurts of determination, and then something shiny gets my attention, and off I go, leaving the bull standing there dumbfounded. Saying, "I thought we were gonna wrestle this thing out? Where did you go?"
So, as we stand here at this mid-way point, I want to ask if you'd like to commit afresh with me? Let's revisit those commitments we made, and with a fresh determination in the Lord's strength, let's "do this thing!" Let's approach this summer season with renewed intentionality and take back some of the territories we've left barren. Let's refuse mediocrity and distraction (a difficult one for me).
I was reminded of these verses in 2 Timothy 2:1—7 NLT
"Be strong through the grace that God gives you in Christ Jesus. You have heard me teach things that have been confirmed by many reliable witnesses. Now teach these truths to other trustworthy people who will be able to pass them on to others. Endure suffering along with me, as a good soldier of Christ Jesus. Soldiers don't get tied up in the affairs of civilian life, for then they cannot please the officer who enlisted them. And athletes cannot win the prize unless they follow the rules. And hardworking farmers should be the first to enjoy the fruit of their labor. Think about what I am saying. The Lord will help you understand all these things."
I thought this was a good reminder of our identity. We are soldiers for Christ and need to stay focused on the task. We are in a battle every day, whether we realize it or not, and need to be diligent in all God has called us to do. And we can do this because, as verse one says, "being strong through the grace God gives us." We don't have to go at it alone. We have a loving and understanding Father who is leading and guiding us every step of the way.
Scripture says that the same power that raised Christ from the dead is alive and available to us! May the power of the risen Christ strengthen you both body and soul. May His love overwhelm you and fill you with joy. May His passion for the lost overtake you and change how you interact with people. May His endless resources and promise to provide change how you give and live. In every way, may you begin to live out the divine supply offered you by Christ today. May you live the other-worldly life He's promised you! You are so precious to Him.
"Be assured that from the first day we heard of you, we haven't stopped praying for you, asking God to give you wise minds and spirits attuned to his will, and so acquire a thorough understanding of the ways in which God works. We pray that you'll live well for the Master, making him proud of you as you work hard in his orchard. As you learn more and more how God works, you will learn how to do your work. We pray that you'll have the strength to stick it out over the long haul—not the grim strength of gritting your teeth but the glory-strength God gives. It is strength that endures the unendurable and spills over into joy, thanking the Father who makes us strong enough to take part in everything bright and beautiful that he has for us." Colossians 1:11-14 MSG