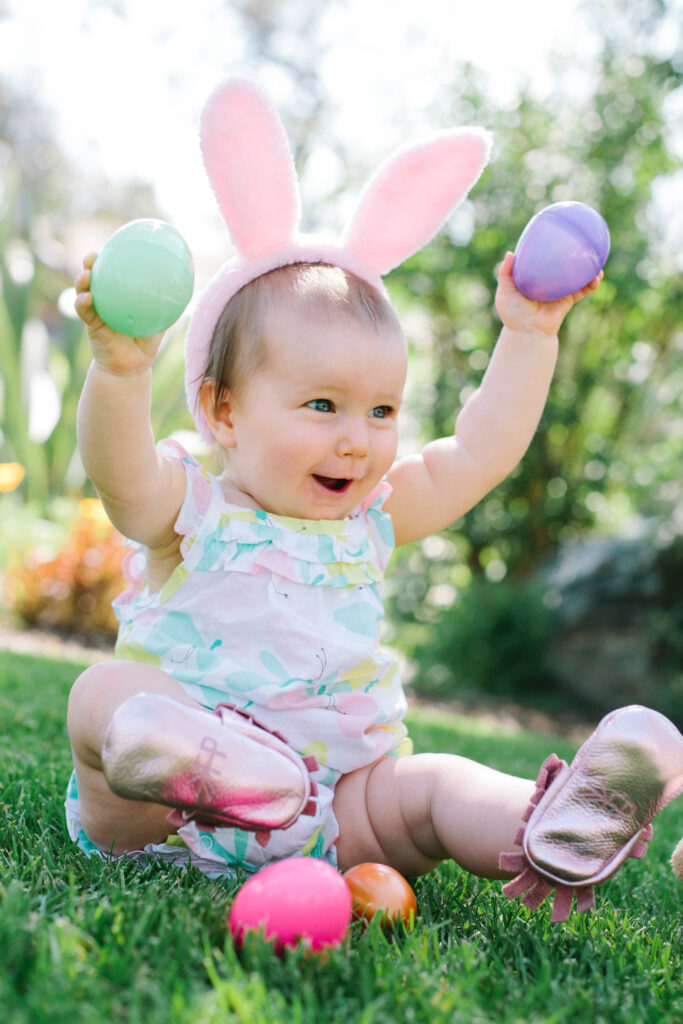 Some 30 years ago a mentor mom handed me a typewritten piece of paper that became one of my most favorite Easter traditions. I smile even now remembering my boy's young faces eagerly anticipating our sometimes chaotic, always entertaining Easter egg hunts.
As Easter approached, I would find myself digging out the Easter bag with all the colorful plastic eggs along with 8 special spray-painted gold eggs numbered 1 through 8.
Every Easter we would invite friends and neighbors to join us for our egg hunt. The kids would decorate brown paper lunch bags with everyone's name-adults and children alike. I can still remember lots of smiles and banter concerning who would find the most eggs.
Before we began, we explained that there were 8 very special golden eggs with numbers on them and they weren't to be opened until we gathered together after the hunt.
We sent the littlest off first and then the next youngest and so forth and naturally the adults off last…it was a time of wild running, bushes stomped, flowers crushed, squeals, and laughter as everyone searched for the eggs. It was so much fun!
And then when all the eggs were found, my husband Mike would gather everyone together—kids sitting, adults standing and ask who had found the golden egg marked #1. Inside the golden eggs revealed the Easter story. Each egg would hold a symbol of the Easter story with a slip of paper explaining what it meant. It was a simple and easy way to give the Easter message to an audience that may be a little excited, kinda squirming, and definitely digging through their bags. But it was our way of sharing the gospel message each Easter in our home with believers and non-believers.
So as a mom and now a grandma, I wanted to pass this old typewritten piece of paper on— freshly retyped— to share freely with you as it was given freely to me. I do not know who the original author was, but somehow I think they would be pleased that the tradition continues—all you need is 8 gold sprayed- painted plastic eggs, the Easter symbols which you probably already have around the house, and the slip of paper describing the Easter story (complete with Bible reference).
Enjoy sweet sisters-it is an honor to share and may it bring you many sweet memories too!
P.S. I have also brought the golden eggs in a basket and shared it as a devotion to women's Bible studies.
Contents for each egg listed below:
Egg #1-fill with a piece of bread.
Do you remember the story about the last time Jesus ate dinner with his disciples? He took bread and broke it apart. Then He gave each disciple a piece of it. He told them the bread was like His body. When they ate it they were supposed to remember that He died on the cross so that we could be part of God's family. So the bread in this egg reminds us of the last time Jesus ate dinner with His disciples before He died not the cross. 1 Corinthians 11:23-24
Egg #2-fill with coins
Remember Judas? He was one of Jesus' disciples, but he did a bad thing. He went to the people who hated Jesus and told them where Jesus was so that they could take Jesus away and kill him. The men who hated Jesus were glad that Judas told them where Jesus was, so they gave Judas some money. The money in this egg reminds us of the money that was given to Judas. Matthew 26: 14-15
Egg #3 fill with thorns
Do you see how sharp these thorns are? These are like the thorns that the soldiers used to make a crown for Jesus. How do you think it felt when they put the crown of thorns on Jesus' head? Matthew 27:29
Egg #4 fill with a big nail
What does a nail remind you of? When it was time for Jesus to be put on the cross, the soldiers laid the cross on the ground. They put Jesus on the cross, then with a big hammer, they pounded nails through His hands and His feet into the wooden cross. Then the cross was lifted up and put into a hole in the ground. Acts 2:23
Egg #5 fill with a stone
After Jesus died his friends took his body and laid it in a tomb. A tomb was something like a cave or a big hole in a hill. A big stone or rock had been rolled in front of the door to the cave—so this rock reminds us of the big rock that was rolled in front of Jesus' tomb. Matthew 27:59-60
Egg # 6 fill with a bag of spices
These are spices. A long time ago when Jesus lived on earth, there was a special way of burying people who died. They would take strips of material and put spices all over them. Then they would wrap the strips of material all around the body. Three days after Jesus died on the cross some of the women who were Jesus' friends were going to wrap Jesus' body with the special strips. Luke 24:1
Egg #7 fill with a cross
The cross reminds us that Jesus died on the cross for us. We have all done wrong things. The Bible's word for doing wrong is sin (Romans 3:23) The Bible tells us that we must be punished for our sin (Romans 6:23). But Jesus loves us so much that He took the punishment we deserve by dying on the cross in our place (Romans 5:8) Jesus must love us very much to have died for us!
Egg #8 is empty
The egg is empty. Do you know why? It reminds us of the empty tomb. Jesus is not in the tomb—Jesus is alive! (Luke 24:2-3) He is alive forever and we, too, can live forever in heaven with Him. We must believe that Jesus died for our sins and ask God to save us from our sins. Do you know what happens when we do that? God forgives us and makes us one of His children (John 1:12) As a child of God, we receive God's gift of everlasting life. This means God is with us now and forever! 1 John 5:11