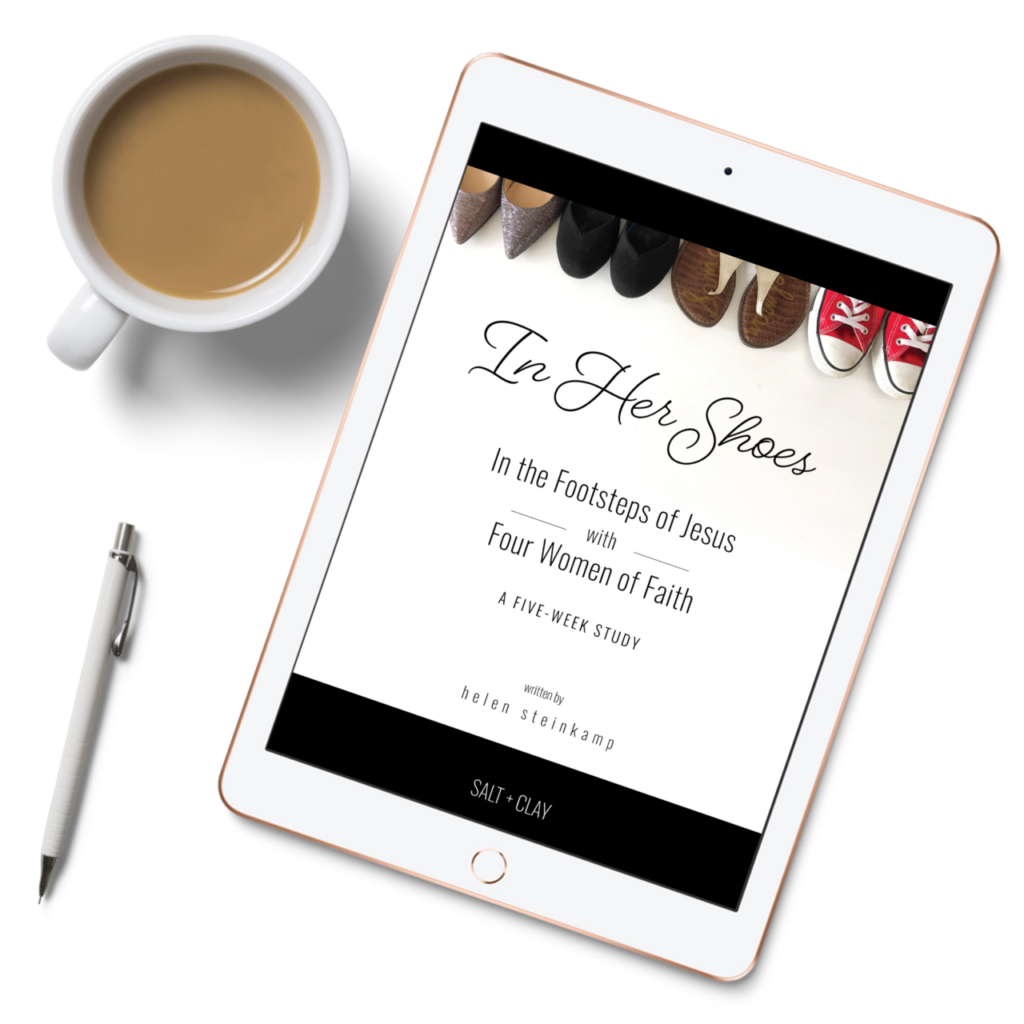 Recently I had the privilege of studying about Mary Magdalene for our Lent Study In Her Shoes.  Mary is especially remembered for being present at the cross and one of the first to come to Jesus' tomb on Easter morning. But I have a confession to make: Years ago I made a snap conclusion about Mary Magdalene, but after studying what the Bible says about her, I realized I had misjudged her.  So before we focus on Mary's encounters with Jesus at the cross and the tomb, we need to go back and look at Mary Magdalene's earlier story. What happened earlier with Mary that led her to the cross?
Three Important Things about Mary Magdalene's Story
The Controversy: Among Bible scholars, there is disagreement about Mary's early identity and character. Some commentaries identify her as a reformed prostitute, often confusing her with the "sinful woman" of Luke 7:37. But other Bible scholars disagree, saying there is no hard evidence from scripture that proves she came from that background.
The Truth
The truth they all agree on is that Mary was captive to the darkness of evil spirits and bouts of insanity. Mark 16:8 says "Jesus appeared first to Mary Magdalene out of whom he had cast seven demons." A person controlled by evil spirits carried a lot of shame and was ostracized in society. The Bible doesn't give us the story of Mary's deliverance by Jesus but at some point she encountered Jesus and he freed her from torment!
The Transformation
Mary's deliverance from darkness and her salvation transformed her into a trusted follower of Jesus. She joined a small group of women travelling with Jesus and serving the disciples' practical needs. Mary must have had financial resources and freedom to travel, because Luke 8:1-3 tells us that this group of women supported Jesus' ministry out of their own resources.
These women, serving in the background, heard much of Jesus' teaching and witnessed healings, miracles, and the deliverance from evil spirits. Mary's faith grew the more she saw and experienced Jesus' ministry. Mary's faithfulness and service led her to the foot of the cross!
Mary Magdalene: Last at the Cross
In John 19:25-27, we see that only Jesus' mother, his aunt, Mary Magdalene, and John remained at the cross. Only a small group were present through the unjust trial of Jesus, who witnessed the brutality of the soldiers in flogging and beating Jesus, and who, with John witnessed Jesus' death on the cross. The women stood silent and weeping as Jesus' life drained out of him. Undoubtedly, this was the worst day of Mary's life!
Although in this account, Mary is silent and weeping with the others, the fact is they were present, as painful as it was! I marveled at their courage because in contrast, all the disciples but John had fled and were in hiding! Sometimes being present in support and solidarity with one who's suffering is a powerful statement!
Mary Finds the Tomb Empty!
Mary was at the tomb twice on Sunday after Jesus died. The first time, she was with a small group of women coming to anoint the body with spices. But when they arrived, they found the stone moved and the tomb empty! They saw an angel who told them Jesus had risen and to run tell the disciples. Mary ran to tell Peter and John, who ran to the tomb, went inside and then left together.
But Mary stayed at the tomb, too distraught to do anything else.She just wanted to be near where Jesus' body had lain. She was disturbed that Jesus' body was gone. Mary's devotion continued even after Jesus had died. She's determined to find his body and to honor it with spices and ointment
Mary's Encounter at the Tomb!
"Mary stood outside the tomb weeping, and as she wept she stooped down and looked into the tomb weeping. And she saw two angels in white sitting, one at the head and the other at the feet, where the body of Jesus had lain." "Then they said to her 'Woman why are you weeping?' She said 'Because they have taken away my Lord and I do not know where they have laid him."

"Now when she had said this, she turned around and saw Jesus standing there, and did not know that it was Jesus. Jesus said to her, Woman, why are you weeping? Whom are you seeking?"
"She, supposing Him to be the gardener, said to Him,' Sir, if you have carried Him away, tell me where you have laid Him, and I will take Him away." John 20:11-17
Because of her shock and grief, she isn't fully in the reality of what's happening. She doesn't react to the presence of angels and she does not recognize Jesus. But that's about to change!
Mary Sees the Risen Christ and Receives a Special Assignment
"Jesus said to her 'Mary!' She turned and said to Him 'Rabboni!!'(which is to say, Teacher.)" Jesus said to her ' Do not cling to me, for I have not yet ascended to my Father, but go to my brethren and say to them.'I am ascending to My Father and their Father, and to My God and your God.' Mary came and told the disciples that she had seen the Lord and that He had spoken these things to her." John 20:16-18
When Mary heard Jesus say her name, she reacted in two ways
She immediately recognizes him. Hearing Jesus' voice say her name brought her out of shock and into the moment of full recognition! She immediately tries to cling to Jesus, relating in a familiar human way, but Jesus tells her not to cling to him. He begins to signal to her and to others that their relationship to Him would change because he is leaving them physically and going to his Father and sending the Holy Spirit to live in them.
Jesus trusted Mary enough to give her the privilege of being the first to "bear witness" of his resurrection to the disciples! The word "apostle" means " one who is sent." Mary was sent to bear the most joyous news ever told! In this way, many commentaries say Mary Magdalene became an "apostle to the apostles"!
Mary Magdalene: A life Transformed, Living symbol of Jesus' Victory over Satan!
I John 3:8 says "But the Son of Man came to destroy the works of the devil." By his death on the cross and his resurrection, Jesus conquered death and has complete victory over Satan.
It is fitting that of all the disciples who could have had the honor of seeing him first, It was Mary Magdalene who had that privilege. In her deliverance from the powers of darkness and her transformation by Jesus, she was living proof of Jesus' victory over Satan!
Mary both inspires and encourages me
Mary inspires me by her faithfulness in following Jesus, her diligent service to Jesus' ministry, and her courage to be present for some of Jesus' darkest hours of life.
I'm encouraged by Jesus' ministry in her life that he wants to deliver me from any past or present bondage, he wants to transform my life and he will continue to reveal my unique purpose and assignment. To receive these gifts I only need to follow Mary's example and faithfully follow in Jesus' footsteps!
Want more? Tune into the teaching and discussion about this incredible woman of faith HERE!