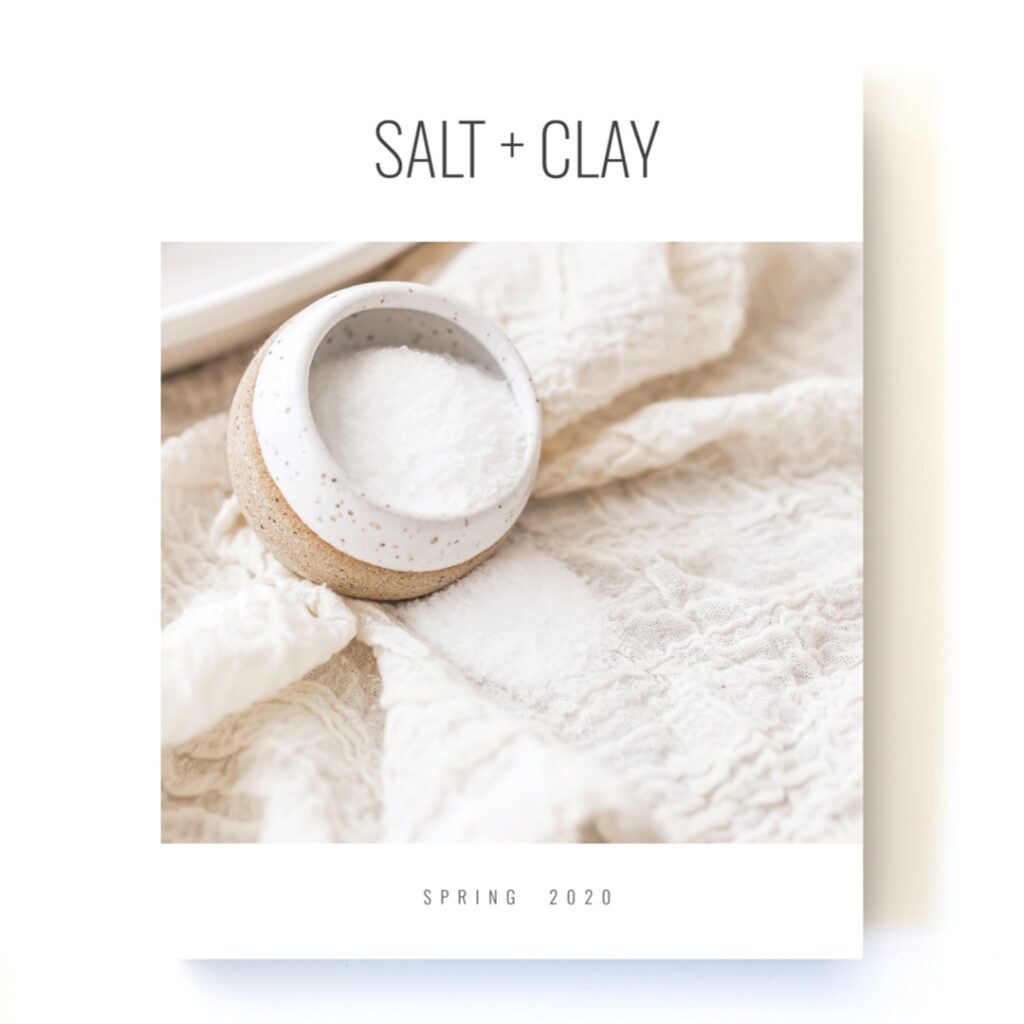 "Thus far the LORD has helped us." 1 Samuel 7:12
Hi Friends,
Six years have passed since God gave me the vision for Salt and Clay. Although at the time I didn't have any concept of the specifics, I only had a rough idea for the foundation on which it might be built. Below is one of my journal entries during that season.
March 19, 2014
"…One thought came to mind this morning for the name of the idea…Salt and Clay. It would be led by women that are passionate about Jesus and who want to be vessels used by God. Coming together with God's Spirit leading, multiplying our talents, and sharing our story in an approachable salty way. Pouring our lives, gifts, and talents into other women in order to help encourage, edify, bring beauty, strength, wholeness, and fruitfulness. Creating a platform for sharing Christ in our every day."
Big Dreams
Fast forward to January 2019 when God in His kindness and infinite wisdom brought together four like-minded women that believe that God wants to do something new, something big and something beautiful for women. Filled with enthusiasm, intrepid boldness, and probably a good amount of naivety, we began to dream and plan. Between the realization of this dream that God planted in our hearts there stood some daunting boundaries. Meeting weekly we wrestled out a vision and mission statement that simply put is this:
"…a collective of faithful women using our giftedness to help other women find theirs, with a passion for igniting and mobilizing Christian women for the purpose of building up the Church and for expanding the Kingdom of God."
Twelve Stones
We called this endeavor Project Twelve Collective. The name was inspired by the story of the Israelites crossing the Jordan River into the Promised land found in the book of Joshua. Behind them, they left wearying decades of meandering around in a barren wilderness, for a promised inheritance that lay in front of them. When the Israelites crossed over the Jordan River into the Promised Land, God commanded Joshua to choose twelve men to go back into the middle of the river and take out twelve stones and bring them out onto the shore. Stacking these stones together was to be a testimony of God's protection and promise while leaving a tangible reminder of the faithfulness of God. Those stones that at one point were buried, unreachable, covered by a challenge to their faith, were now divinely accessible. They were then stacked in the land of their inheritance as a sign, an unmistakable marker at the very place where God demonstrated His power to overcome any obstacle to His will. A consecrated memorial, a preemptive marker of their confidence in God. Not a memorial to them, but to Him.
Unfamiliar Territory
Just as those twelve stones testified to the willingness of a people to leave what they had known in order to go with God, facing challenges to their faith, we've had our own Jordan River to cross in the launching of this new venture. There were times when we stood on the metaphorical banks looking at this seemingly impassable river wondering if we'd ever make it across. We chose to step into the bracing cold water and head into the unfamiliar territory with some very real obstacles. Who would have imagined that in just a short window of time into the launch of this new venture there would be a global pandemic that we have come to know as COVID-19?
Overcoming Obstacles
As the days of self-isolation stretched into weeks, the disruption of our daily lives began to take its toll. Our ordinary routines were dramatically upended by the pandemic and it was having a real effect on people's moods and emotions. Our weekly meetings switched to Zoom calls, all the while trying to learn how to launch something we've never done before. The few precious hours many of our writers and creatives had to work getting this project launched were instantly consumed with homeschooling their children, adjusting to working from home with constant interruptions, waking up at odd hours of the night in order to secure delivery times for groceries, and the dauntless task of trying to locate any type of paper product!
We Made It!
By the goodness and grace of God we have made it across proving that with God we have the power to overcome any obstacle that is between us and His divine will. The spray of water is still fresh on our faces but our feet are firmly planted in a new and exciting land. We've faced multiple challenges as we've stepped into the water, traversing the riverbed of believing in what we could not see out in front of us. But by God's miraculous power He has made a way for us.
It's with a heart full of joy that I am honored to announce the official launch of our new magazine Salt+Clay this week! There is still much more land to conquer, but we've made it this far and we have some stones to stack. This is the outcome when the implausible meets the promises of God and a reminder not only for the ones who crossed over on dry ground but also for future generations. Being confident that God today is just as willing to bring His people through seemingly impassable circumstances into a new land of promise.
We invite you to celebrate with us and be a part of the Salt+Clay family. One way you can do this is to pre-order the first issue here!
Thank you for your kind support and generosity. The best is yet to come!
To God be the glory,
Shannon Davidson Co-Founder Salt+Clay Magazine