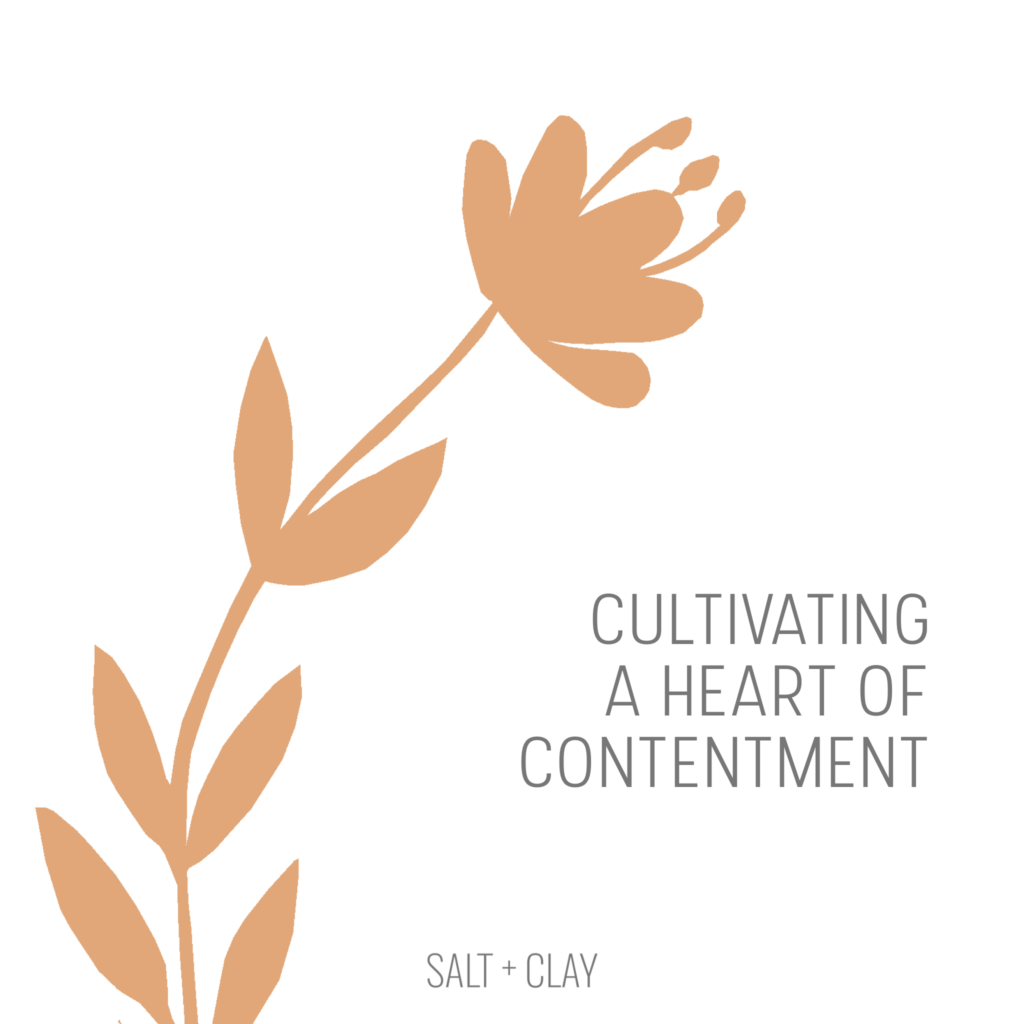 Hi friend,
I like to imagine contentment as a packet of flower seeds.
I'm not an avid gardener (I'm too busy growing little boys right now), but I see the similarities between cultivating a flower garden and cultivating a heart of contentment.
First, the gardener surveys the neglected bed of soil. She digs up a dying rose bush whose bitter roots cling to the clay beneath the soil. Wielding a blunt-edged spade she breaks up the hardened ground of disappointment.
The now softened ground, fertilized with the word of God, yields to the gardeners fingers. She thoughtfully drops a variety of seeds into earthy cradles and covers them with blankets of soil. In the coolness of morning she waters the seeds from the watering can of thankfulness.
At first the gardener doesn't see results. Although she questions whether the soil is too hard, or has enough nutrients, she trusts that transformational work is occurring beneath the surface.
Then one day, a sprout appears! Then another. Then another! Within days, dozens of sprouts stretch upwards to the sun.
Blue skies darken and spring rains fall. When bright skies return the gardener goes outside to tend to her garden. When she glimpses the flower bed she clasps her hands in delight.
Delicate buds grace each stem. Within days the buds unravel and dozens upon dozens of daisies and cosmos weave in the breeze.
But the gardener's work isn't finished. The next morning she kneels at the garden's edge and pulls up weeds of greed that have sprouted overnight. She shoos away the rabbits of jealousy that like to nibble on the blossoms, and pulls up the thistles of discontentment she neglected to remove earlier. The flowers multiply until they overflow the flowerbed.
One delightfully sunny summer day, the gardener pours a glass of lemonade, pulls up a lawn chair, and enjoys the work of her hands.
Growing in contentment is a process
Cultivating contentment requires perseverance, patience, and the power of the Holy Spirit. Just as a daisy cannot bloom overnight, so contentment requires consistent nurturing to reach maturity.
We cultivate contentment through actions such as expressing gratitude and pulling up weeds of jealousy and greed, but it is the Holy Spirit who does the transformative work. We may plant a flower seed in the natural world, but it is the supernatural power of God that transforms the hidden seed into a living thing. Similarly, the Holy Spirit is able to expedite the process. Just as the spring rains accelerate the growth of plants, the Holy Spirit can supernaturally expedite contentment in our hearts. This reminds me of Luke 8:8 where Jesus says, "Still other seed fell on good soil. It came up and yielded a crop, a hundred times more than was sown."
We cannot make ourselves content. Trust me, I've tried! Contentment is not bought through the acquisition of things, the pursuit of exotic experiences, or by guilting ourselves into thankfulness. For years I tried to be content by my own strength and failed. I mercilessly compared myself to others. I struggled with an incessant desire for more and new. Disappointment plagued my heart no matter how many blessings the Lord poured into my lap.
It was only when I humbly brought my discontentment before the Lord, asked for His forgiveness, and requested His help that I was able to grow in contentment.
True contentment is only found in Jesus Christ by the power and help of the Holy Spirit.
Let me share four gardening tools to help you cultivate a heart of contentment today:
1. Recognize areas of discontentment in your heart.
Grab your journal, go for a walk, or simply sit on your porch and ask the Lord to reveal thistles of discontentment in your heart. What do you habitually grumble about? What are your weeds of greed or rabbits of jealousy? What areas of lack do you lament about to anyone who will listen?
2. Invite the Holy Spirit to help you grow in contentment.
The Holy Spirit is our teacher (John 14:26). He is our helper (John 14:16). He guides us into truth (John 16:13-15). He helps us in our weakness (Romans 8:26-27). He enables us to bear good fruit in our lives (Galatians 5:22-25).
Luke reminds us, "…how much more will your Father in heaven give the Holy Spirit to those who ask him!" (11:13). Let's ask our Father for more of the Holy Spirit!
3. Remove threats to contentment.
When a covetous thought pops into your mind, pluck it out immediately and make the thought obedient to Christ (2 Corinthians 10:5 NIV). When weeds of greed try to choke your flowers of contentment, carefully pull them out from the root. If you find yourself pulling out the same pesky weeds over and over again, ask Jesus to reveal hidden roots in your heart so together you can permanently remove them. Keep the soil of your heart soft through intimacy with Jesus so it doesn't harden into discouragement.
4. Aggressively practice gratitude.
Start each morning with thankfulness. "Thank you God for this day! Thank you for [fill in what you are working to be thankful for]!" As you wash dishes, drive to the grocery store, or change your toddler's diaper, offer whispers of gratitude.
Finally, end the day with thanksgiving. Perhaps this looks like writing three things you are thankful for from the day in a journal or developing a ritual of giving thanks with your kids as you tuck them into bed.
Reap a harvest of contentment
Friend, whether the garden of your heart is overrun with weeds, just starting to sprout, or in full bloom, I encourage you to keep cultivating contentment.
When you faithfully show up with a trowel and watering can in hand, you will reap a harvest of satisfaction, peace and joy.
I know what it is to be in need, and I know what it is to have plenty. I have learned the secret of being content in any and every situation, whether well fed or hungry, whether living in plenty or in want. I can do all this through him who gives me strength." ~ Philippians 4:12-13 NIV
Shara-Rae Jansen Salt+Clay Magazine