Hi Friend,
Have you found yourself digging through the kitchen, rummaging leftovers and trying to coordinate a meal without the extra trip to the store? I've got you girlfriend! Whip out that cast iron skillet!
My first introduction to the cast iron skillet was my mother-in-law's cornbread. Ever since then, I've been determined to cook any and everything in that pan. Luckily, she gave me one already greased and seasoned to perfection. It's moments when I break out the seasoned pan that I remember God's intention for food. "So whether you eat or drink or whatever you do, do it all for the glory of God" (1 Corinthians 10:31). God ultimately gets the glory when we serve our families well. Praise Jesus! Burnt chicken or soggy vegetables are no deterrent for his glory.
I've purchased many variations of cookbooks and tutorials on the art of "simple food" but ultimately come up empty-handed when I try to follow an exact recipe. I always end up trying to substitute some recipe ingredients for what I already have on hand. The outcome is one of two variations; one it looks nice but is not palpable to the senses, or it's questionable in looks and surprisingly has a pleasing bite. Sometimes the best creations stem from using up leftovers from the night before and adding some flour and butter.
Finding my groove
I'd like to say I'm a natural in the kitchen. The truth is, I've been married for 13 years and have finally found myself comfortable in the kitchen. My husband, Eric cooked for the first many years of our marriage but I thought it was about time for me to dive in. The word homemade is enough to get my heart beating and brow sweating. So I'll be honest and say I found this easy homemade biscuit recipe on the Sugar Spun Run blog, adapted it a little and voila! And by adapted I mean I used cookie cutters instead of a round cup. See the recipe here.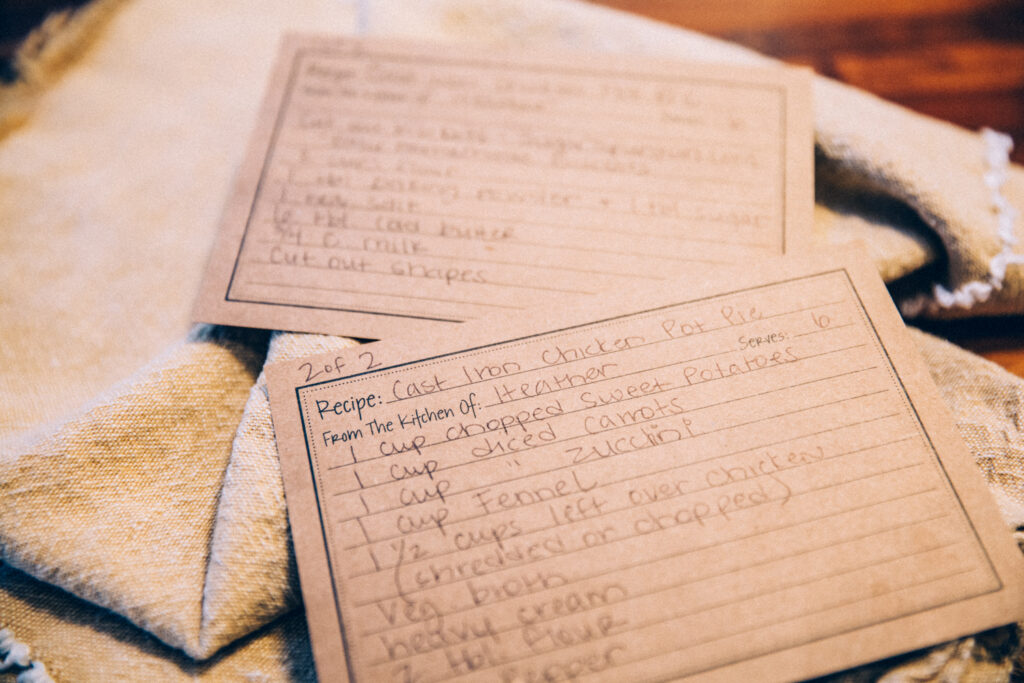 A family favorite
Chicken pot pie is a favorite in our family. I typically purchase the big one at Costco or the cute one at the Fresh Market with the rooster shape on top.
On this particular afternoon, I found myself with leftover veggies and chicken from the night before. You can literally add in any vegetable and it'll be a win. For the sake of this recipe, I used sweet potatoes, carrots, zucchini, and fennel. It was a hit! Follow the recipe below or substitute about 4 cups of any leftover vegetables.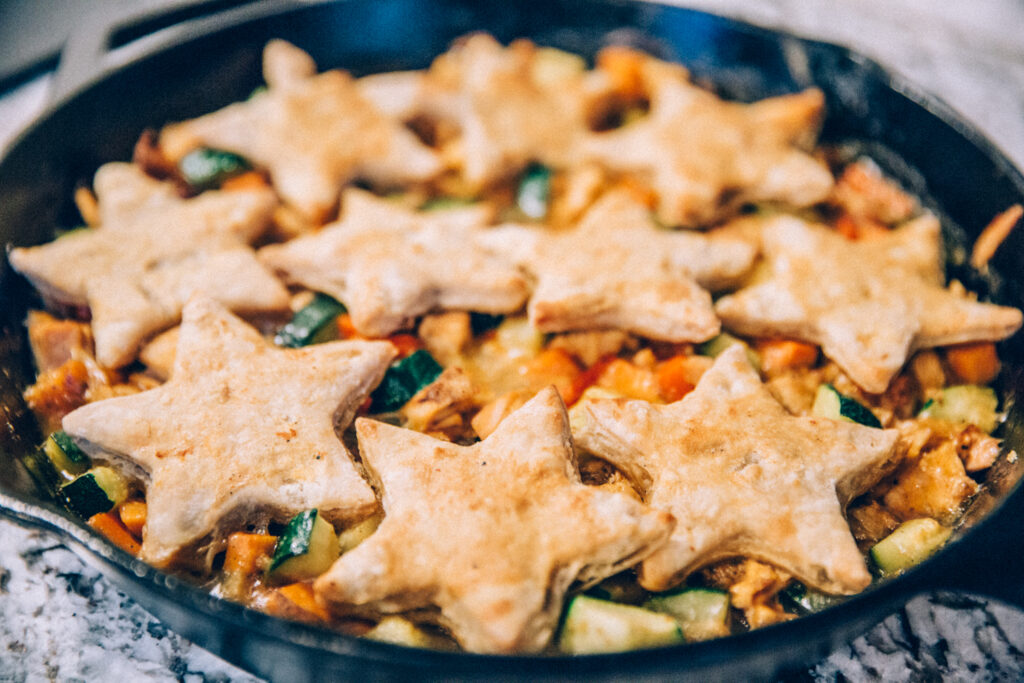 A few quick notes; don't let the photo fool you, it's nothing but a toss of ingredients here and there. Add some cookie-cutter biscuits and it's a win for all. If you don't have a cast-iron skillet, I suggest you purchase one here. It's a staple and makes everything from pancakes to peach cobbler (that's another recipe for another day) taste delicious!
Cast Iron Chicken Pot Pie
Ingredients: Serves 6
1 cup chopped sweet potatoes
1 cup diced carrots
1 cup diced zucchini
1 cup fennel
1 ½ cups leftover chicken (shredded or chopped)
1 cup chicken broth
¼ cup heavy cream
2 tablespoons flour
Salt and pepper
To Make:
Prepare biscuits from the linked recipe on Sugar Spun Run.
Use cookie cutters to create the desired shape.
Saute sweet potatoes and carrots in a pan for 5-10 minutes – Add remaining vegetables.
Add flour and toss well.
Add chicken, broth, and heavy cream. Mix well.
Bring to a light boil.
Layer uncooked shaped biscuits on top.
Bake at 350 for 15-20 minutes or until golden brown and pie is thick.
Bon appetit!
Heather Warren Salt+Clay Magazine