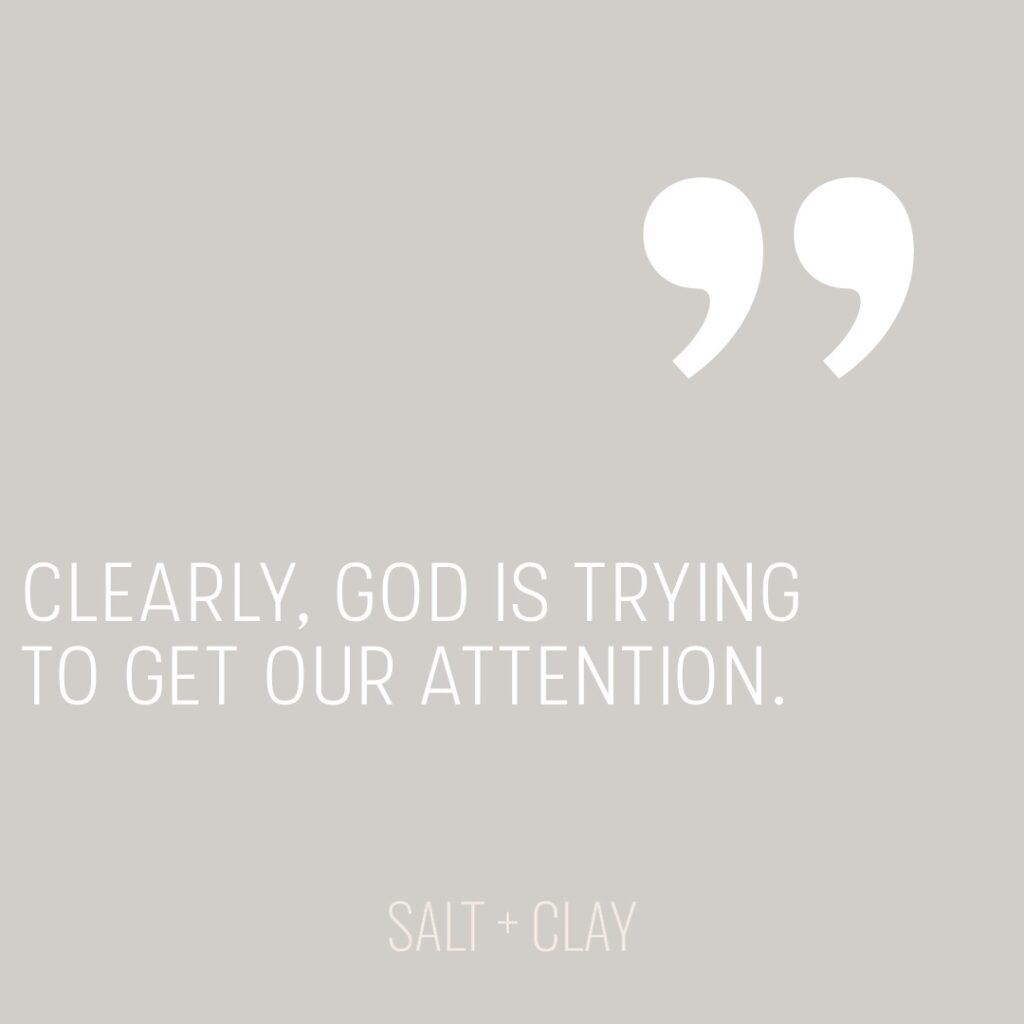 Hi Friend,
Clearly God is trying to get our attention. Our worlds have suddenly changed. Our routines are gone. The busyness of being out and about is gone. A new norm is upon us. Our husbands are home, our kids are home and our lives are home!

We have been forced to slow down. We eat 3 meals together where maybe we were sharing just one. In a blink of an eye, many of us have become homeschool moms. We are checking in on our elderly parents and neighbors. It is good. We have had to stop and reset. The tasks and goals we focused on three weeks ago have been replaced by a new normal–a new priority–a God priority!

God makes it so simple, He doesn't want us to miss it, #Godspriority- Relationships! The King of kings and the Lord of lords wants us to focus on, work on, and treasure our relationship with Him and those He surrounds us with!

#lovingrelationships
"Love must be sincere. Hate what is evil: cling to what is good. Be devoted to one another in brotherly love, Honor one another above yourselves. Never be lacking in zeal, but keep your spiritual fervor serving the Lord. Be joyful in hope, patient in affliction, faithful in prayer. Share with God's people who are in need. Practice hospitality." Romans 12:9-13 NIV

#love
Our love must be sincere, genuine, and we can only do this through the power of the Holy Spirit. "But if anyone obeys His Word, love for God is truly made complete in them. This is how we know we are in Him: Whoever claims to live in Him must live as Jesus did." (1 John 2:5-6 NIV)  Such a simple truth-live and love as Jesus. And if we live and love as Jesus did, we won't be afraid to share our stories, to be vulnerable and authentic with our families and fellow believers. Our lives will be transparent and attractive to others as we live in Christ. 

#hateevil
In other words, love what Jesus loves and hate what Jesus hates. Evil is an assault on God's character–flee from it!
#devotedandhonor
It is pretty easy to be devoted to our family but how many believers are you devoted to outside your family?  I think we need to have a mindset that our family is bigger! It includes the Body of Christ! We need to devote ourselves to all in the faith! We also need to honor and show kindness to each other-Philippians 2:3, "Do nothing out of selfish ambition or vain conceit, but in humility consider others better than yourselves." (NIV) …Something to think about as you stand in the social distancing line at the grocery store check out…

#neverlackzeal
God wants hearts that are on fire! Excited about what He has done! Are we pressing into the things of God with hunger and passion? Do we have a Spirit of zeal in our pursuit to serve our Lord?

#hopepatientfaithfulinprayer
No matter how bad things get, we can be joyful in our salvation and have hope in God's future promises. God has laid up treasures in heaven for us and our trials and suffering are for a moment (2 Corinthians 4:17). We need patience when things get tough, we need to hang in there–Job 13:15 tell us that although Job may be slain, he will trust God. Job's patience through all his difficulties brought perseverance. And we know in James Chapter 1 perseverance must finish its work so that we may be mature and complete in Christ. And sweet sisters, we need to be faithful in our prayer life. We need to have an ongoing dialogue between our hearts and Jesus' heart. We need to be ever conscious of His presence at all times–that is how we will love well.

#sharewithGodspeople
Our home life can keep us incredibly busy right now, but we also need to be aware of what is going on in our community. We are called to share one another's burdens. Be sensitive to others-look to be a blessing to someone in need, be generous. Ideas: grocery shop for someone, support a small business owner–buy gift cards or order take out–tip 50%. And I absolutely love all the encouraging faith messages written in chalk on our sidewalks! What a cool way to lift up, build up, and brighten up someone's day!

#practicehospitality
This is an incredibly simple phrase and pretty much self-explanatory, but of course, God kicks it up a notch, what He means is be known for your hospitality!
So there you have it–God has purposely changed our world for us to stop and reset to pursue loving relationships. We have been given this moment in time to really see, spend time, and learn from those around us. We are to live authentically, be devoted and honor each other. Never be lazy, but work hard and serve the Lord enthusiastically!  We are to rejoice in our hope, be patient in trouble and keep on praying! We need to be ready to help God's people in need and always be eager to practice hospitality!. This is what our busyness should be about–the things of God. #Godspriority!
—Bev Merwin, Salt+Clay Magazine