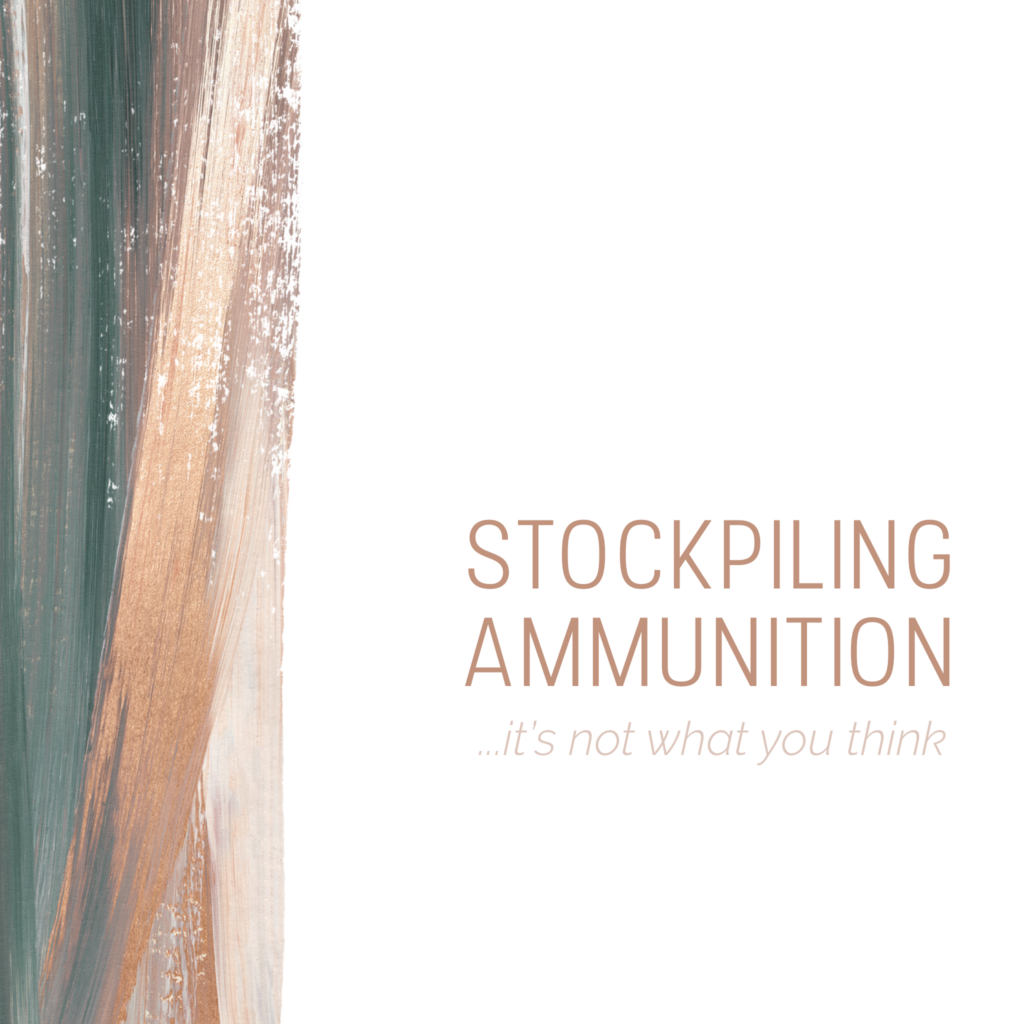 Hi Friend,
As fear and uncertainty surrounding COVID-19 are driving people to stockpile hand sanitizer and toilet paper, it's also driving many to stockpile ammunition. According to a recent article in USA today various gun retailers have been experiencing an exponential increase in ammunition sales since late February, which is attributed to public worry surrounding coronavirus. Those interviewed in the article when asked why they're stockpiling? Their answer: self-defense. One person was quoted as saying "my main concern is somebody coming up to me as I walk out of Target and trying to take what I purchased."

While I'd prefer not to get into a debate with anyone that believes that stockpiling hundreds of rounds of ammunition (or toilet paper for that matter) is their inalienable right as an American citizen, I would like to discuss ammunition stockpiling of a very different sort, one, in my opinion, that has even greater protection for us. The ammunition I'm referring to is a protection against an unseen enemy, but a very real enemy all the same.

The ammunition is God's word. The enemy is fear.

One of the most life-changing pursuits that have helped me overcome fear is memorizing God's word. Whether I've been consistent or sporadic in this discipline I can testify that hiding God's word in my heart has dramatically changed my mindset as it relates to worry, fear, and anxiety.

By having the truth of God's Word at the ready when the storms of life come, we have an arsenal to crush the lies of the enemy and then overcome with the promises of God. So that in times of uncertainty about the future or insecurity in the present God's word can be our strength and protection against fear of the unknown.
I was reminded today reading Romans 8:35,37
"Who shall separate us from the love of Christ? Shall trouble or hardship or persecution or famine or nakedness or danger or sword? No, in all these things we are more than conquerors through him who loved us. Despite all these things, overwhelming victory is ours through Christ, who loved us."
Do we truly believe that overwhelming victory is ours? Whatever our answer may be, I pray that God will transform our thinking, giving us the confidence and audacity to BELIEVE Him. That we live out what it looks like to be more than conquerors and not just quote it because it sounds nice.
Remember, Christ will never take you into a battle that he hasn't given you the power to conquer and more importantly he won't let you fight it alone.
I read a verse in Joshua recently that I've never noticed before, it's in Joshua 23:10 "One of you routs a thousand because the Lord your God fights for you, just as he promised." I had to look up the word rout it means a disorderly retreat, crushing defeat, a licking (I loved that one), vanquish and overpower.
That is some kind of promise. But there is a caveat in the following verse "so be very careful to love the Lord your God." More than anything we need to have our eyes fixed on our Faithful One, with hearts devoted to Him. It's interesting that even though it says God fights for us and gives us victory, He fully intends for us to be a part of the battle. We need to get suited up and ready for whatever comes at us. We don't sit on the sidelines and watch. We need to do the work so we can build some spiritual muscle.
Our enemy is strategic, but we have a weapon that he cannot stand against and that is the word of God! When we have that kind of ammunition at the ready we will be armed and dangerous!
There is a lot that is uncertain in the world right now, but one thing is certain, you are dearly loved by God, His name is on you, and you are His! He desires to make you into a mighty woman of God so that you can live a victorious, fruit-bearing, abundant life, full of joy and peace no matter the circumstances.
I hope and pray that down the road you'll be able to look back on this year as "a year that changed your life" in the best possible way. That you take new ground for the kingdom, move fully into the calling God has for you, overcome long-standing obstacles in God's power and see walls of opposition come tumbling down for His glory!

So keep building that arsenal sweet one, and as you do you are promised that you will be more than a conqueror because the victory is already yours in Jesus!
– Shannon, Salt+Clay Magazine