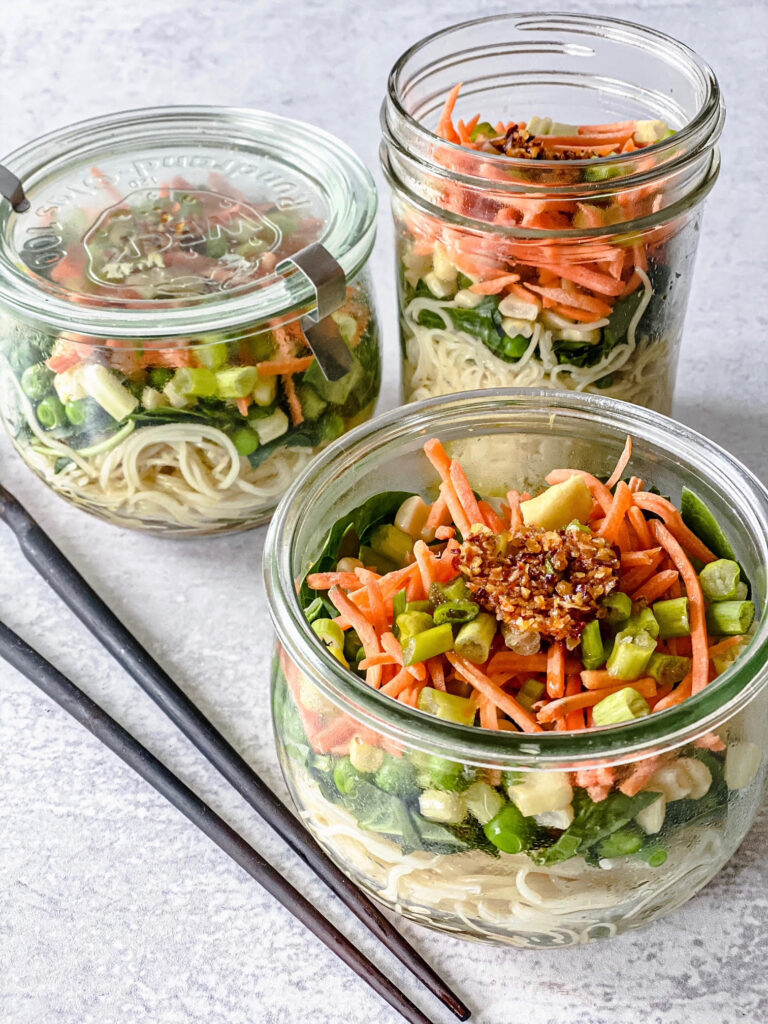 We put out the vote on Instagram after our last Cook with Us! episode on what we should cook together next and you chose NOODLES! And not just noodles, but Noodle Cups.
No longer do we have to settle for the MSG-packed seasoning packets with those little freeze-dried nubs of vegetables all entangled with some way-to-soft slippery noodles. We are taking things up a notch by giving you all you need to know to create honest-to-goodness noodle cups that will WOW your family and make lunchtime a no-brainer.
The idea is simple and genius: Combine par-cooked noodles, a bit of vegetable base, some raw sliced veggies, and a few seasonings inside a jar. Add boiling water, wait a few minutes, and you've got yourself a lunch with all the appeal of instant noodles, but with actual flavor and freshness trapped under that lid.
Giselle and Shannon will be showing some of their favorite noodle cup combinations to inspire you, but we want to see what fun combos you come up with too! You can join the fun LIVE on Instagram this Saturday at 9:00 am as we cook up some delicious food together!
Below you find all you need to know so that on Saturday you can create a full week of lunches (or dinners) with a few helpful tips for designing your own instant pot noodles because really, this is a method more than a strict recipe.
Noodle Cups
Equipment
Pint-sized widemouth glass jars with lids, or other heatproof containers
Ingredients
1

tsp

flavor base — soup stock paste (like Better Than Bouillon), miso paste, curry paste

1

tsp

optional flavoring extras – chili-garlic sauce, soy sauce or tamari, coconut milk, sesame oil, Sriracha or other hot sauce

1/4

cup

filler ingredients — frozen corn, frozen carrots, frozen peas, diced tofu, leftover cooked meat, dried or thinly sliced mushrooms, thinly sliced spinach or other hearty greens, kimchi, soft-boiled or hard-boiled egg

1

cup

cooked udon, cooked yakisoba or ramen, cooked soba noodles, cooked spaghetti or fettuccine, cooked rice noodles, cooked shirataki noodles, dry vermicelli or maifun noodles

1/4

cup

fresh ingredients — fresh herbs, sliced green onions, bean sprouts, sliced lime or lemon
Instructions
Place flavor base and flavor extras in the bottom of the cup: If it's a paste, like soup stock or miso paste, spread it around a little so it dissolves more easily once you add the hot water. Also add any flavoring extras.

Top with filler ingredients: Scatter your filler ingredients over the top of the paste. It's OK if they get mixed in with the flavor base and extras.Add the noodles: Pack the noodles down so they're fairly compact. It's fine if they stick together — they will un-stick once you add the water.Finish with the fresh ingredients: If you'd like to keep these from getting mixed into the hot soup, pack these into a baggie that can be removed just before you add the water.Seal and refrigerate: Place the lid on the container and refrigerate for up to a week. Use a dry-erase marker or masking tape label to write the contents of each jar so you can easily grab whichever combo of ingredients you want that day. (It's best to keep the jars refrigerated until you're ready to eat, but it's OK to stash them in your bag for up to two hours.)Instructions for Cooking the Noodle CupsTop with hot water: When you're ready to eat, unscrew the lid and pour enough boiling water over the top of the noodles to cover.Cover and steep: Place the lid back over the container. Let the soup steep for 2 to 3 minutes. The ingredients should be warmed through, but the soup is still nicely hot.Stir thoroughly: Reach your chopsticks or fork deep into the cup and stir everything around thoroughly to mix the flavor base into the water and mix the filler ingredients into the noodles. (Alternatively, you can pour the soup out into a bowl and mix everything there.)

Eat right away! If you kept your fresh ingredients separate in a bag, scatter them over the top of the soup before eating.