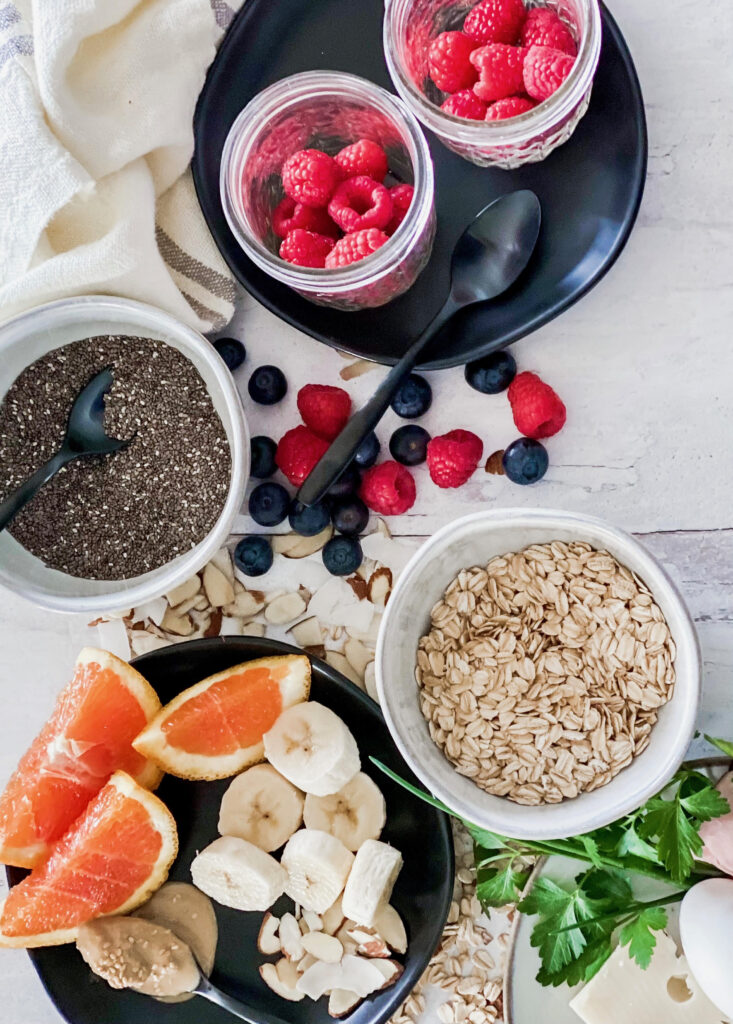 We are in the kitchen again this upcoming Saturday and this time it's all about Breakfast. And not just any ordinary breakfast, we are making it "grab and go" breakfast! These healthy and delicious breakfast offerings will be just what you need to keep your mornings calm and somewhat under control when your people are running in all directions. This menu lineup has a little something for every taste whether a bit sweet or savory.
On the menu this week we have a savory muffin filled with ham and cheese that will remind you of a fancy Croque Monsieur! We will also be making a healthy, vegan, and gluten-free breakfast cookie bursting with dried fruit and nuts. And to round out the menu a versatile chia seed pudding that will sure to win over everyone in your family.
Check out the recipes below and make sure to have your ingredients ready for this Saturday morning. Then just join us via Instagram LIVE HERE on Saturday morning at 9:00 am and cook along with Giselle and Shannon. You won't want to miss the fun!
Croque Monsieur Muffins
Ingredients
3

cups

all purpose flour

2

tsp

baking powder

1

tsp

kosher salt

2

large

eggs

1

cup

buttermilk or plain yogurt

4

tbsp

butter, melted

1

tsp

dijon mustard

1

cup

ricotta cheese

1/2

cup

grated Parmesan cheese, tightly packed

1/2

cup

swiss cheese, grated (fontina, jack, cheddar, or other semi-hard cheese works well too)

1/4

cup

fresh parsley, chopped

3

tbsp

fresh chives, minced

8

oz.

ham, diced (cooked and crumbled bacon or sausage works well too)

freshly ground black pepper
Instructions
Heat oven to 400 degrees F, and generously butter and flour a muffin tin, or alternatively line with muffin papers.

In a large bowl whisk the flour, baking powder, and salt.

In a medium bowl whisk eggs, buttermilk, melted butter, dijon, ricotta, swiss cheese, herbs, ham, and all but 2 tablespoons of the parmesan.

Add the egg/cheese mixture to the flour mixture and use a spatula to gently combine. You don't want to overmix, but you do want to make sure that there are no pockets of flour. If the batter feels too dry, you can add an additional 1-3 tablespoons of buttermilk, but as the batter sits, the flour will hydrate and look wetter.

Spoon the muffin batter into the tin and sprinkle with parmesan. Bake for 16-20 minutes, or until a toothpick comes out clean. If the muffins look too pale, you can pass them under the broiler for just a few minutes to golden up the parmesan.
Breakfast Cookie
These healthy morning cookies are so simple to throw together and tast amazing, too! They're whole grain, all-natural, gluten-free, and vegan, Made without refined sugar, oil, or butter.
Ingredients
2

cups

old-fashioned whole oats

1/2

tsp

salt

1

tsp

cinnamon

1/4

tsp

ginger

1/4

tsp

allspice

1/4

tsp

nutmeg

3/4

cup

almond butter, peanut butter, or sunflower seed butter

1/4

cup

tahini

1/4

cup

maple syrup

1

large

banana, mashed

1/4

cup

golden raisins

1/4

cup

dried cranberries

1/4

cup

pepitas (pumpkin seeds)

1/4

cup

sunflower seeds
Optional ingredients
1/4

cup

dried apple, chopped fine

1/4

cup

dates, chopped fine

1/4

cup

ground flax
Instructions
Preheat oven to 350 degrees F. Line a large rimmed baking sheet with parchment paper or silicone baking mat. Set aside.

Combine all of the ingredients into a large bowl and mix with a wooden spoon until combined.

Using a 1/4 cup measuring cup, portion 1/4 cup rounds of the cookie dough onto the prepared baking sheet. Using the back of a spoon or the palm of your hand flatten out each cookie slightly as they do not spread in the oven.

Bake for 15-17 minutes or until the edges are slightly brown. Cool cookies on the baking sheets for 10 minutes, then transfer to a wire rack to cool completely.

Store cookies in an airtight container at room temperature for up to 5 days or in the refrigerator for up to 10 days or freeze for up to 3 months.
Chia Seed Pudding
Creamy, thick chia pudding that's easy to make, nutritious, and so delicious! Just 4 ingredients required for this a fast and tasty breakfast.
Ingredients
1 1/2

cups

dairy-free milk (such as coconut, almond, oat)

1/2

cup

chia seeds

1

tsp

vanilla

1-2

tbsp

maple syrup
Optional toppings
1-2

tbsp

nut butter

1/4

cup

fresh berries (such as blueberries, raspberries, strawberries)

1

tbsp

slivered almonds (even granola works great)

1/4

tsp

cinnamon

1/4

tsp

cocoa powder

1

tsp

agave syrup (or honey)
Instructions
To a mixing bowl add dairy-free milk, chia seeds, maple syrup (to taste), and vanilla. Whisk to combine.

Cover and refrigerate overnight (or at least 6 hours). The chia pudding should be thick and creamy. If not, add more chia seeds, stir, and refrigerate for another hour or so.

Enjoy as-is, or layer with your favorite ingredients! Will keep covered in the refrigerator for up to 5 days