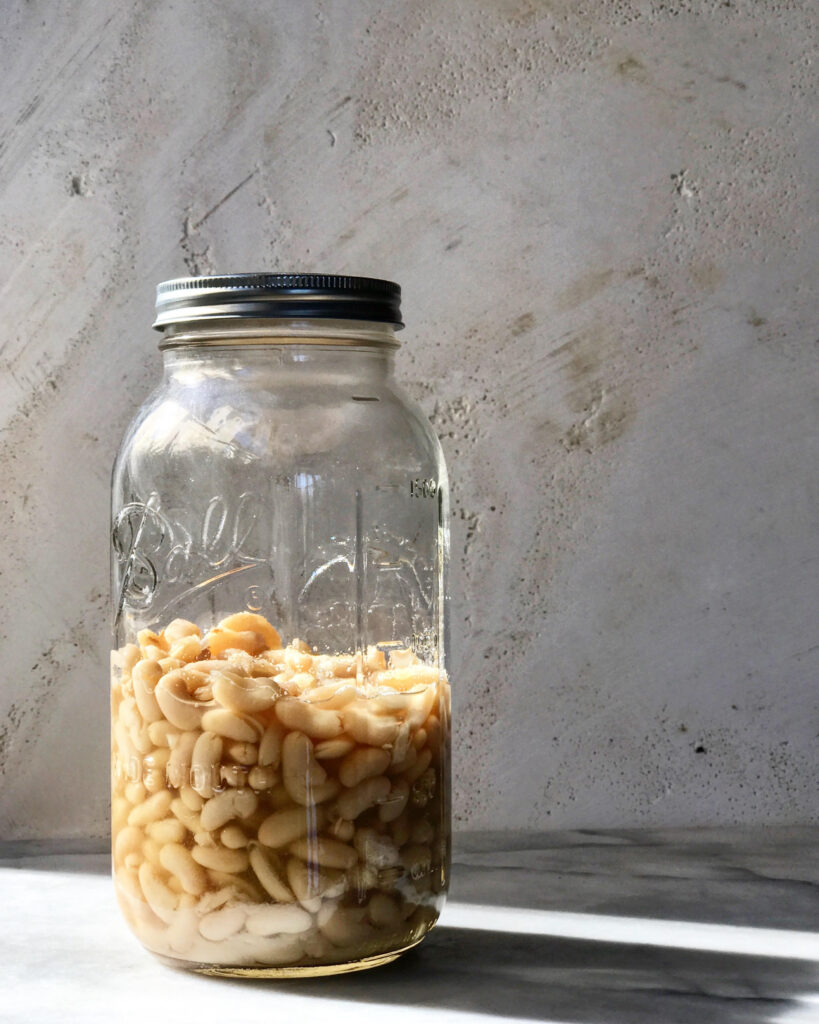 In preparation for this Saturday, we are getting all of our ingredients pulled together. If you want to try your hand cooking up a batch of fresh beans for the Minestrone soup you'll want to try this fool-proof method.
If you've avoided cooking beans at home because you've heard they are tricky, finicky, or complicated, it's time to leave all that behind. Cooking beans is no more trouble than filling a pot of water and letting it simmer happily on the back burner all afternoon. In fact, that's basically all it is. Ignore the naysayers; it's time to cook some tasty, creamy, totally tender beans at home.
There is not one single method of cooking beans. At its most basic, you want to simmer the pot until the beans are soft. Soaking can speed up the process and vegetables or stock will make them more flavorful. It's really that simple. There are all kinds of fine-tuning and variables, but basically, this is it.
I put the beans to soak in the morning, after rinsing in lots of cool water and checking for small debris. I cover the beans with about an inch or so of water. Then add the beans and their soaking water to a large pot. You have been told before to change the water and rinse the beans. The thinking now is that vitamins and flavor can leech out of the beans into the soaking water you are throwing down the sink. There is conflicting scientific evidence that changing the water cuts down on the gas. If you want to, do it. If it seems unnecessary, don't.
If you've soaked them, the beans will have expanded, so make sure they are covered by at least two inches of water, maybe even a bit more. Raise your heat to medium-high and bring to a hard boil. Keep the beans at a boil for about ten to fifteen minutes. After so many years, I think this is the moment that really matters. You have to give them a good hard boil to let them know you're the boss and then reduce them to a gentle simmer, before covering. I like to see how low I can go and still get the occasional simmering bubble. Open and close the lid, or keep it ajar to help control the heat and allow evaporation. The bean broth will be superior if it's had a chance to breathe and evaporate a little.
Cook the beans for 1 hour, and then begin checking for doneness. Depending on their age, size, and variety, beans can take anywhere from 1 to 3 hours to cook through. Be patient. Keep the beans at a gentle simmer and taste frequently as they start to become tender. Add more water as needed to keep the beans submerged, and stir occasionally.
When the beans are almost ready, the aroma will be heady, at this point, I'd go ahead and salt them. Go easy as it takes a while for the beans to absorb the salt.
If the bean-cooking water starts to get low, always add hot water from a tea kettle. Many believe that cold water added to cooking beans will harden them. At the very least, it will make the cooking take that much longer to bring them back to a simmer.
So you're done! Once you've mastered this method, go ahead and try some different techniques. Your bean friends will swear by this or that method and you should take their advice, keeping in mind there are few absolutes when it comes to cooking beans, only that it's very hard work to mess up a pot of beans.
If not serving immediately, cool the beans in their cooking liquid. Transfer the beans and cooking liquid to airtight containers and refrigerate or freeze. The beans will keep for 1 week refrigerated or can be frozen for up to 3 months