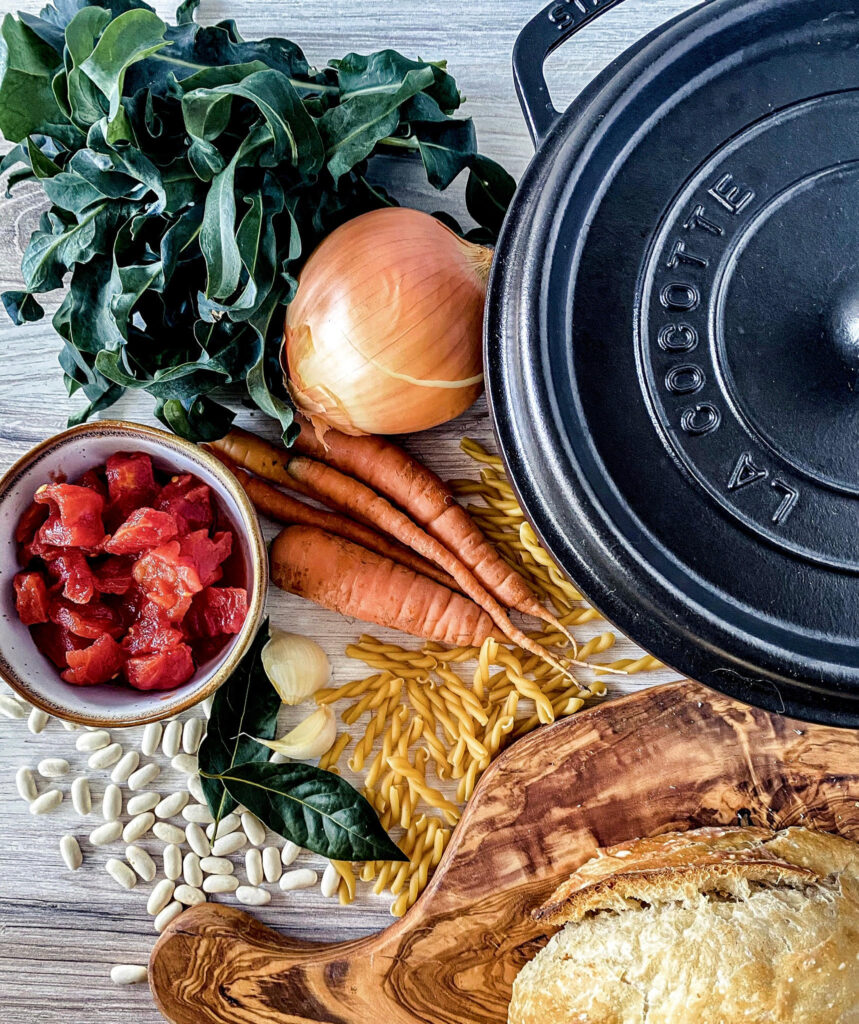 We have another opportunity to cook together this upcoming Saturday, February 20 at 9:00 am via Instagram. This time we are focusing on wholesome, hearty, and ever-so-flexible Minestrone soup. We will be making this recipe below as well as show you how to change it up based on what is in season right now and available at your local farmer's market.
This hearty and nutritious minestrone soup is brilliant at embracing what you've got in your fridge. This is a perfect winter soup and your whole family will love it! It's one of those dishes where everyone will always go in for seconds. It's super-easy to tweak according to the vegetables you have in the house – embrace the seasons but also use the best of your freezer and store cupboard, let it flex for you. And if you want to keep it veggie, leave out the bacon and just go straight to the veg.
Check out the recipe below and make sure to have your ingredients at the ready on Saturday morning. Then just join us via Instagram LIVE HERE on Saturday morning at 9:00 am and cook along with Giselle and Shannon. You won't want to miss the fun!
Classic Minestrone
Ingredients
4

strips

bacon

olive oil

1

clove

garlic

2

small

onions

2

bay leaves

2

carrots

2

ribs

celery

2

handfuls

seasonal greens, such as kale, chard, cabbage

4

cups

vegetable stock

15

ounce can

plum tomatoes

15

ounce can

beans, such as cannellini, butter, or mixed

1

cup

small dried pasta, such as elbow, orecchiette, ditalini

Parmesan cheese

salt & pepper
Instructions
Put a large shallow casserole pan on medium-high heat. Finely slice the bacon and sprinkle into the pan with 1 tablespoon of olive oil, stirring occasionally while you prep your vegetables.

Peel and finely chop the garlic and onion, adding the garlic to the pan with the bay leaves as soon as the bacon turns golden, followed by the onions.

Trim and chop the carrots and celery into rough 1/4 inch dice, adding to the pan as you go. Remove and finely chop any tough stalks from your greens and add to the pan. Cook for 10-15 minutes, stirring regularly, or until softened and caramelized. Then add the canned tomatoes, breaking them up with your spoon.

Add the vegetable stock, beans, and a pinch of salt and pepper. Shred your greens and sprinkle them into the pan. Add the pasta and bring soup to a simmer. Cover and let bubble away for 10-15 minutes, or until the pasta is cooked and the soup has thickened to your liking.

Season the soup to perfection, then serve it with a grating of Parmesan cheese and a drizzle of olive oil. A sprinkling of fresh basil leaves or a dollop of pesto will always be delicious too!
Notes
Don't waste any of your greens – remove those tougher stalks, finely chop and add them to the base of your soup with the onion, carrot, and celery.
This soup is great for using up odds and ends from your dried pasta packets. Pile whatever you've got in a clean tea towel, then give it a good bash so it's all about the same size. EASY SWAPS:
When it comes to herbs, use what you've got. Rosemary or thyme leaves would be delicious here, or even a sprinkling of dried herbs.
Add other vegetables when you're frying the onions, if you've got it, like leek, zucchini, or potato.
Use whatever stock you can get your hands on – of course, a fresh broth is delicious, but a humble stock cube will absolutely do the job.
– This is lovely finished with a sprinkling of grated Parmesan cheese, but you could use Cheddar or a dollop of pesto from a jar.
– Out of pasta? No problem, use rice instead or even hunks of bread, which will soak up all that lovely flavor.

Recipe from Jamie Oliver