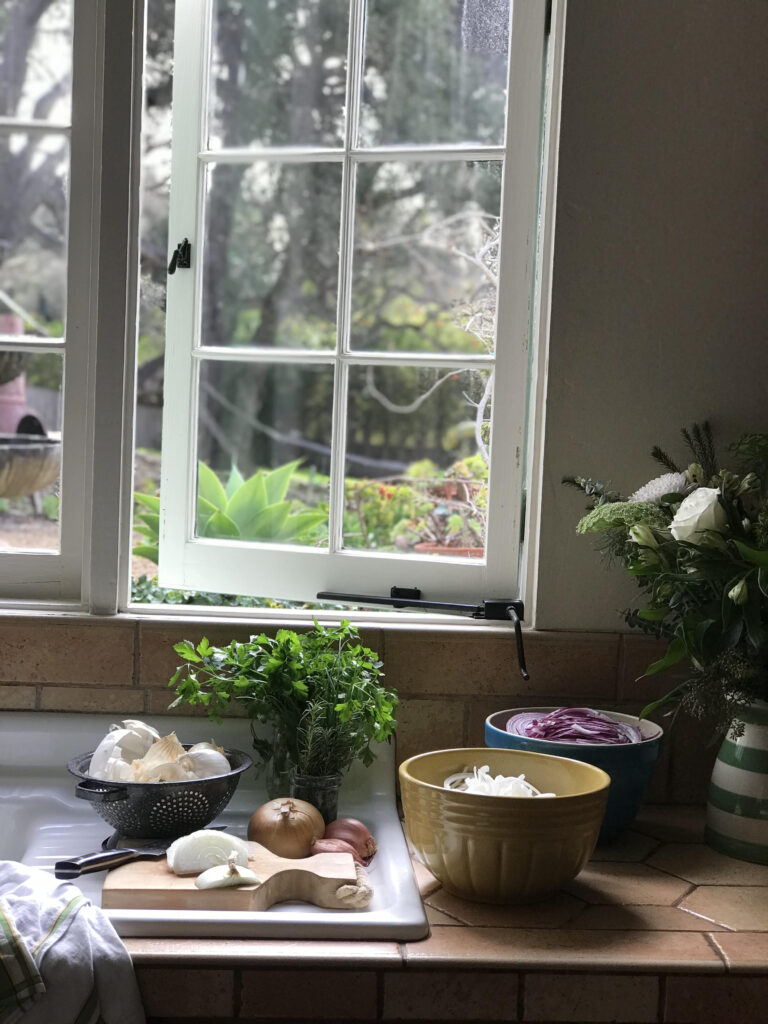 Cook with Us!
January provides a beautiful and welcome opportunity to begin something new. There are many resolutions we can make but what about considering some new rhythms? We at Salt+Clay desire to see women walk in confidence with the unique God-given gifts they have to offer the world. And we believe that in order to accomplish this we need to have our lives in order. By building life-giving daily and weekly rhythms into our lives we lay the foundation for a life that is strong, sustainable, and consistent.
You're Invited
Sometimes it's the monotony of our daily mundane tasks can deplete us of energy and creativity. What if the task of weekly meal planning and prep could be turned into an opportunity to connect and cook with others virtually? We want to create an opportunity for you to do this very thing! We want to invite you to join us in turning the humdrum of weekly meal planning into something that is not only FUN but will help to keep your life in balance, maintaining momentum to keep you moving forward.
What If?
What if you decided to try something new and in the process found some new friends, fresh inspiration, and FUN along the way? You're invited to join Shannon Davidson and Giselle Crout on the first and third Saturday morning at 9:00 am PST for an Instagram LIVE Cooking Together.
Details
Here is all you need to do:
Read through the recipes below
Then choose if you want to make one or all three.
Depending on which recipe or recipes you choose you should have all of the ingredients purchased ahead of time so that you can cook along with us.
On each of our Saturday Cooking Together episodes, we will walk you through each and every step together and at the end, we will have something delicious and nutritious for ourselves and our families!
When:
1st & 3rd Saturday @9:00 – 10:00 am PST
Put these dates on your calendar!
January 23
February 6
February 20
March 6
March 20
Where:
Salt + Clay Instagram
Purpose:
Teach by demonstrating and deconstructing the process of menu planning, preparation.
Inspire women to create something new, and to be more fearless in the kitchen
Encourage women to create the rhythm of daily and weekly meal planning and preparation by sharing simple nutritious and delicious meals every day.
Build connection and community (albeit virtually) by participating in the process of cooking together.
Recipes
Master Recipe: Roasted Vegetables
Ingredients:
Mixed winter vegetables fall/winter squashes (butternut, kabocha, pumpkin, etc), parsnips, carrots, sweet potatoes, potatoes, turnips, and other root vegetables
Olive oil
Salt
Pepper
2-3 Roasting trays, depending on the number of vegetables you choose.
Recipe #1: End of the Week Vegetable Curry
Roasted vegetables are delicious. You can fill an oven once and create a week's worth of healthy, satisfying ingredients. Roasted vegetables are also particularly good when they have a few days to settle into themselves. Turn the ends of your batches into one big curry. By the end of the week, you will have eaten vegetables a dozen ways a dozen times, having begun with good raw materials only once. ~Shannon
Ingredients:
Olive oil
1 small onion or ½ of a large onion, cut into large dice
1 clove garlic minced
1-2 Tbsp. Thai Curry Paste (red or green)
1 tsp. Fish sauce (or soy sauce)
4 cups cooked vegetables
1 cup stock (I use vegetable stock)
1 cup of coconut milk
Juice of 1 lime
A bit of maple or agave syrup
Topping:
½ cup toasted peanuts
Cilantro
Brown rice (optional)
Heat a saute pan over medium-high heat, add diced onion, and a sprinkling of salt. Once the onion has begun to soften add the garlic and cook for another minute. Add the curry paste and cook for another 2 minutes, then add the soy sauce and turn off the heat. In a blender add the cooked onion mixture along with the roasted vegetables and stock. Blend on medium-high until smooth. Add mixture back to the pan over low heat. Add the coconut milk and lime juice. If the mixture is too thick add more stock to the desired consistency.Taste for seasoning. If it needs a bit more of a boost add more fish sauce (or soy sauce), a squeeze more of lime, or if a touch of sweetness is needed add a splash of maple syrup Serve with brown with toasted peanuts and cilantro. Serves 4-6
---
Recipe #2: Hummus Bowls
Serves 2-4 depending on amount of toppings and fierceness of appetite. I generally plan about ½ cup of hummus on the bottom of each bowl and then build from there. Feel free to mix and match your favorite optional toppings and do a fridge dive, but you want a good variety of textures with both soft and crisp, raw and cooked, as well as variety of flavor and tastes, savory, sweet, sour, etc. I love that these bowls are never really the same twice. ~Giselle
Base: 2 cups hummus Optional Toppings:
2-3 cups roasted vegetables
Cooked grains or seeds (Quinoa, barley, farro, bulger, etc)
Spinach or greens, fresh, or sauteed
Pickled carrots, beets, onions, or other pickled veggies
Crispy seasoned ground meat (1lb ground beef/pork/turkey/lamb, browned to crispy with 1 teaspoon salt, 1½ teaspoons ground coriander, 1½ teaspoons ground cumin, 2 cloves minced garlic)
Whole garbanzo beans, cold, or roasted crisp
Crumbly cheese, like feta or queso fresco
Pesto
Green onions, chives, or other soft herbs
Avocado
Fresh chopped or cherry tomatoes halved
Cucumbers sliced or cubed
Yogurt, green goddess dressing, or just a simple lemon juice/olive oil mix if you want to add a drizzle over the top. I often find a dressing is not necessary because the soft hummus on the bottom provides plenty of moisture, but it is a nice addition if you are so inclined.
Spread about ½ cup hummus in the bottom of each bowl (more if you have less toppings and really hungry people, but like filling a taco, these get big fast!). Sprinkle your roasted veggies over one portion of your bowl, then proceed with the rest of your toppings. Don't think of pizza where you want the toppings spread evenly. Instead, think more like a mosaic, you want to group the like foods together, so you can pick and choose your bites, dipping your fork in and out. You can also absolutely serve with pita chips if you want to forgo the fork. Enjoy!
Recipe #3: Roasted Vegetable Frittata Cups Your Way

This recipe is more of a blueprint for customization. I have separated your options into the base egg cups of just eggs and vegetables, as simple as you go, while the optional flavor additions are just that. There to add flavor and in the case of the milk, also aid texture, but none are strictly required. ~Giselle
You can swap in different cheeses, use less, more etc. Keep in mind that most cheese, with the exception of ricotta, is salty, so if you adjust the quantity, you may want to adjust the salt too. You can also skip the milk and cheese if you are making these vegan and add more eggs, the texture will be different, but it works. Finally, the pesto is optional. It is a great way to add a burst of additional flavor
For the muffin tin, make sure it is non-stick, and you will want to use baking spray to spray it very well. Even then, it may stick a little. You can gently scoop the frittatas out as they cool.
Base recipe:
8-12 extra-large eggs (8 if using milk, 12 if not including any milk)
½-1 teaspoon kosher salt (more or less to taste)
½ teaspoon pepper (more or less to taste)
2-3 cups of roasted vegetables
Optional Additions:
¾ cups of milk
1 cup of grated cheese (swiss or fontina are great choices, but feta or a small spoonful of ricotta in each cup would be delightful too)
⅓ cup of grated parmesan
2 teaspoons pesto
Preheat oven to 375 degrees F and spray a non-stick muffin tin very very well with cooking spray. Don't forget to spray the flat parts between the cups, as the eggs tend to puff up when cooking.
Whisk together the eggs, ½ teaspoon of salt, and ½ teaspoon pepper. If using, whisk in your milk and pesto until combined.
Pour a small number of eggs into the bottom of each pan. This helps keep the vegetables from sticking directly to the bottom. Then sprinkle in the vegetable mixture in each cup. I think about 3-4 tablespoons per muffin cup works well. Divide any type of cheese you are using evenly between all the cups. Gently pour the egg mixture in each cup, over the veggie cheese mixture. Don't overfill the cups, you can go a little over ¾ full in each cup, but not much more if you want to keep the misshapen tops to a minimum.
Bake for 18-20 minutes, making sure the eggs are not undone in the middle, by gently shaking the pan. The frittatas should shake, but not look or move like raw eggs. If they need a few more minutes, add just 1-2 minutes at a time.
Frittatas can be eaten immediately, cooled to room temperature, kept in the fridge for several days, and even frozen. Reheat in the microwave wrapped in a damp paper towel, heating in 20-second increments until heated through. Makes 12 Frittatas