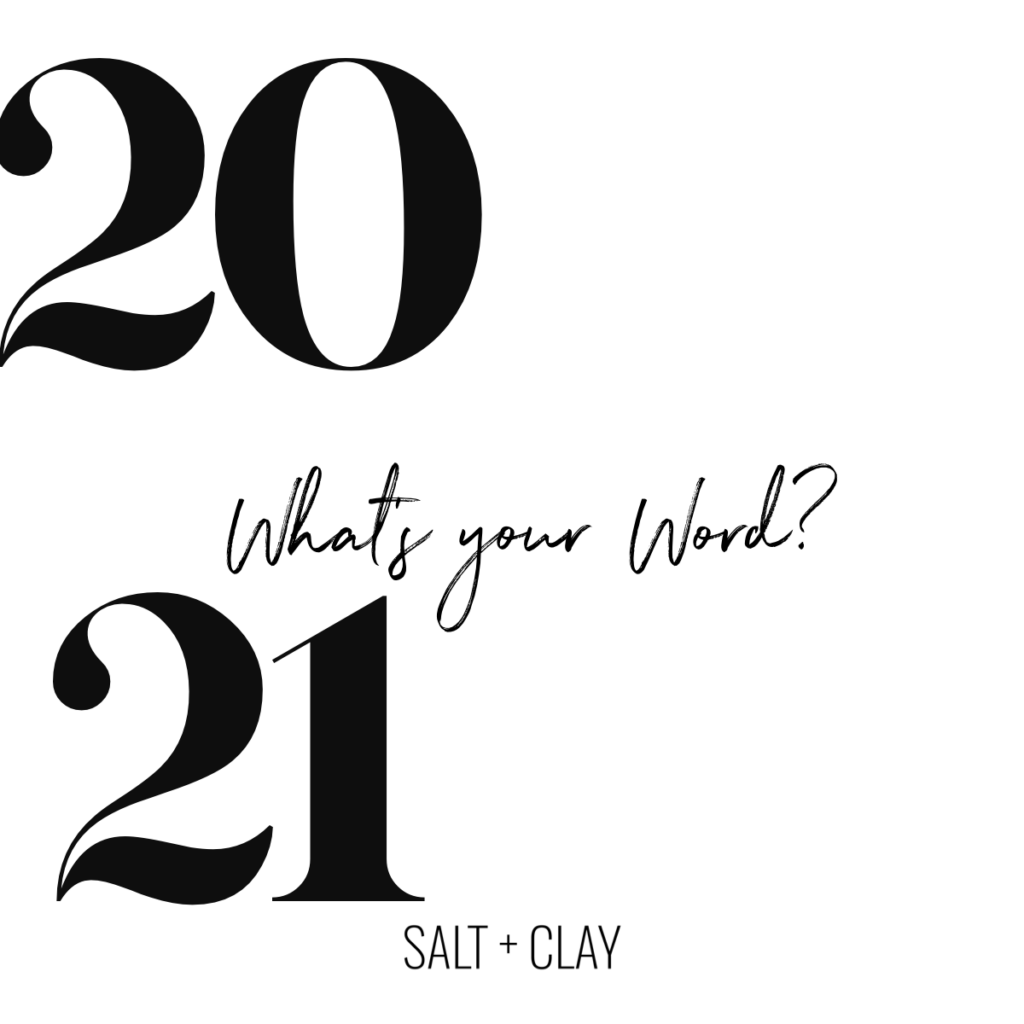 "Where there is no prophetic vision the people cast off restraint." Proverbs 29:18 ESV
What kind of person do you want to become?
Most of us don't have any trouble coming up with a list of things we'd like to change about ourselves or the way we live. We could fill an entire page. College-ruled.
I used to make a list every January. Making resolutions for every area of my life. But by the middle of February, most of these had fallen by the wayside or had completely slipped my mind. Discouragement and frustration seemed to taunt me like bullies. I finally came to terms that this process wasn't working and I needed to make a shift.
Vision, Not Regret
We want to move forward with vision, not regret. Without vision, the Bible says in Proverbs 29:18, we tend to throw off restraint. We become unfocused and undisciplined. Regret doesn't sustain the formation of a new character the way that vision can. So for 2021 let's choose to craft a vision of the type of person we want to be this year.
One Question
By focusing on the kind of person we want to become we can move from focusing on regrets and specific behaviors and spending time with the question, "Who do I really want to be? Or rather, How do I really want to be?" The goal is to be able to answer that question with One Word. And that One Word will be your focus for 2021. As your One Word begins to soak deep into your heart and mind you'll learn how you can apply it throughout the year and the result will be a transformed life.
The Process
We want to help walk you through a simple process of choosing One Word for the upcoming year that will help you affect personal change and spiritual growth. It's easy, doable, and surprisingly powerful, mainly because it supplies narrowed focus.
So give this question some in-depth thought. "What kind of person do you want to become?" Don't rush the process, and don't settle on the first word that comes to mind. An important part of the process is allowing the question to remain a question for a period of time-so truth can arise.
Take Time to Reflect
Spend a week or so reflecting on who you wish to become. We tend to define ourselves by WHAT we do, and it is this tendency is precisely why we need to dive deeper. Resist pulling a surface-level answer to the penetrating question "Who do you want to become?"
Take Some Inventory
During this process consider the condition of your heart, your character, your soul. This requires a fierce commitment to being gut-honest with yourself. When we take the time to look beneath the surface at our behavior we discover what is driving our beliefs and motives that make up our character. Don't just think about behaviors; think about character and characteristics.
In a journal, notebook, or piece of paper, make a list of characteristics of the person you want to become. In other words, describe the traits and motives of a person like that. Don't feel discouraged that you might not be that way. Just try to determine the kind of character required for you to live like you wish to live. There is no wrong way to do this. Your list will be highly personal and unique.
Reduce and Define
Once you feel you've completed the listing process, pray, look over your list, and begin marking off all but ten or so of the words. Remove the ones that resonate least with you. Once you have your shortlist write a brief description of what those words mean to you. Look them up in the dictionary and not their definitions. Look at their synonyms and antonyms and look them up in the Bible.
Pray and ask God to guide you and give you clarity. Weigh each word and the implication it might have on your life and see if one of them manages to rise to the top. Ask God to bring one to the forefront. Don't worry about choosing the "right" word, or the one "God intends" for you. Don't stress. If you went through the process each of these words on your list is right for you.
Reflect and Refine
What are some things you would like to change about yourself?
What kind of person do you want to become this year?
What drives your desire to become this kind of person?
Describe the characteristics of this kind of person.
Reduce your list to ten words or less
Research each of these words using a dictionary or thesaurus
Pray and ask God to bring one of these words to the forefront
Choose a Bible verse that speaks to you about your chosen word and memorize it. This will provide a foundation of truth you can continually return to and will fuel your hope to change.
Having One Word as a focus for the year can be a powerful tool that will help you to stay mindful of the goal. Your chosen word will help to arrange your life in such a way for internal work to be done by God. His Spirit combined with our faith, and not our strenuous moral striving-is what will accomplish this:
"Does the God who lavishly provides you with his own presence, his Holy Spirit, working things in your lives you could never do for yourselves, does he do these things because of your strenuous moral striving or because you trust him to do them in you?" Galatians 3:5-6
As we position ourselves to focus and depend on God's work in our hearts and lives his transforming grace will help us live fully from the inside out.
Your One Word will be a lens that can change every area of your life. More than a to-do list and more than a New Year's Resolution. This can be a lifestyle with dramatic results.
Will you choose to step into 2021 with a clear singular focus, that will help you become all that you are called to be?