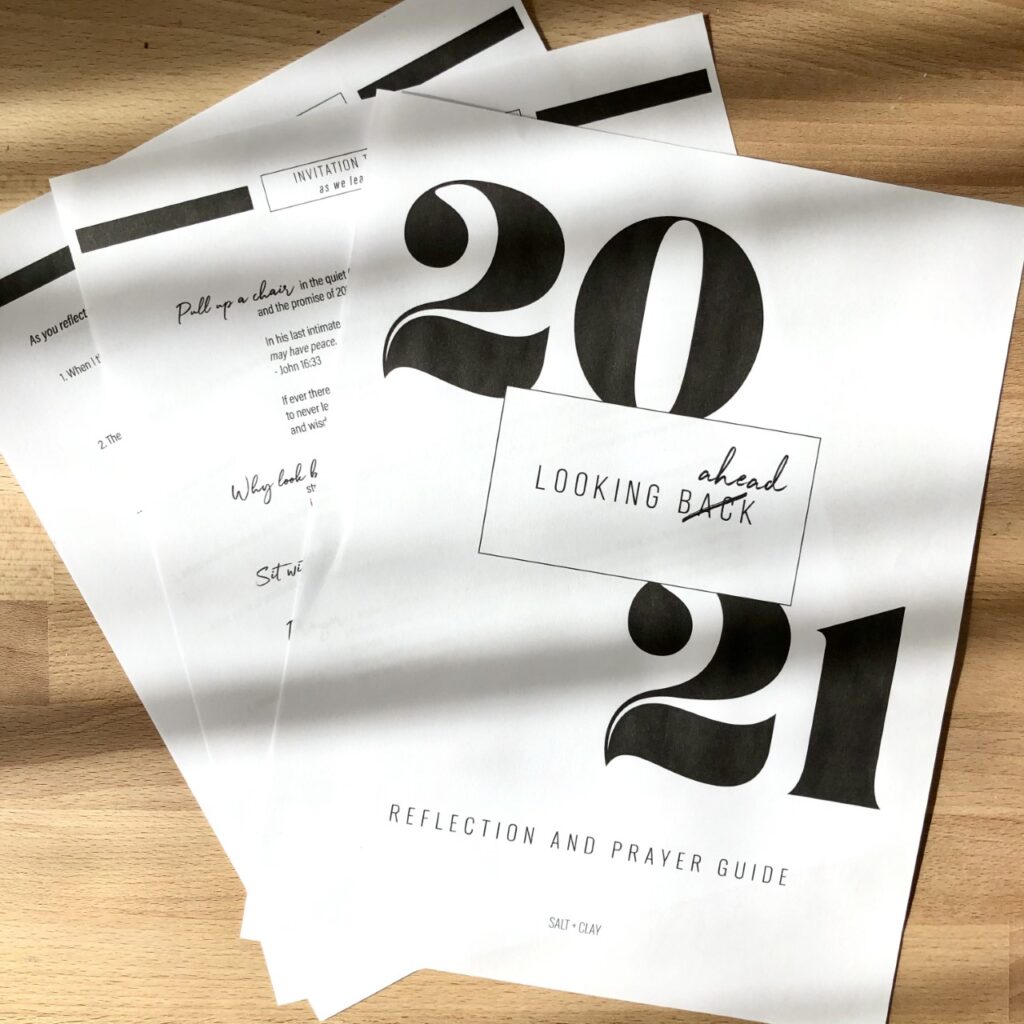 Why look back?
It would be easy to move from one year to the next and miss the moments of joy or struggle that revealed how God has been present-speaking, healing, transforming, active in our journey, and also where the Spirit is leading next.* So we want to make sure we take this opportunity and memorialize those significant lessons and experiences.
You're Invited
We want to invite you to join us this Saturday, January 16 from 9:00 – 10:00 am PST for a Facebook LIVE discussion with our two founders Helen Steinkamp and Shannon Davidson along with some of our Salt+Clay tribe as we reflect on some of the Wins and Wobbles we experienced in 2020. We will also share the treasures we learned, insights, and wisdom as well as our intentions for the year ahead.
Free Download
Feel free to download the FREE Reflection and Prayer Guide HERE. Then on Saturday hop on over to our Salt+Clay Facebook page and tune into our LIVE conversation. You can chime in via the chat box asking questions or sharing your thoughts too!
As a way to prepare your heart and mind for this conversation, we invite you to read through this poignant and powerful poem from the book Geurrrillas of Grace by Ted Loder.
We hope and pray that you will find yourself ready to believe in some new beginnings and be strengthened in grit and grace to step into this new year determined to live the wild, amazing life you've been called to live.
Help Me to Believe in Beginnings (Guerrillas of Grace)
God of history and of my heart,
So much has happened to me during these whirlwind days:
I've known death and birth
I've been brave and scared
I've hurt, I've helped
I've been honest, I've lied
I've destroyed, I've created
I've been with people, I've been lonely
I've been loyal, I've betrayed
I've decided, I've waffled
I've laughed and I've cried
You know my frail heart and my frayed history
And now another day begins.
Oh God, help me to believe in beginnings, and in my beginning again,
No matter how often I've failed before.
Help me to make beginnings;
to begin going out of my weary mind into fresh dreams, daring to make my own bold tracks in the land of now;
to begin forgiving, that I may experience mercy;
to begin questioning the unquestionable, that I may know truth;
to begin disciplining, that I may create beauty;
to begin sacrificing, that I may accomplish justice;
to begin risking, that I may make peace;
to begin loving, that I may realize joy.
Help me to be a beginning for others,
to be a singer to the songless,
a storyteller to the aimless,
a befriender of the friendless;
to become a beginning of hope for the despairing,
of assurance for the doubting
of reconciliation for the divided;
to become a beginning of freedom for the oppressed,
of comfort for the sorrowing,
of gentleness for the angry,
of wholeness for the broken,
of peace for the frightened and violent of the earth,
Help me to believe in beginnings,
to make a beginning,
to be a beginning
so that I may not just grow old,
but grow new each day of this wild, amazing life you call me to live,
with the passion of Jesus Christ
*Excerpt from 2021: Looking Back, Looking Ahead – Reflection and Prayer Guide, by Helen Steinkamp