We talk a lot about fruit here at S+C. Not just the edible kind (although we do love a ripe juicy peach or a tart crisp apple) but fruit as it relates to our character. In Galatians 5:22-23, the Apostle Paul lists out nine virtues that are the work of the Spirit in a believer's life and are demonstrated by love, joy, peace, patience, kindness, goodness, gentleness, faithfulness, and self-control.
Spiritual Fruit
Wouldn't it be nice if there was such a thing as instant fruit? But unlike fruit that we can pick up at the market or farmstand whenever we want, spiritual fruit sometimes isn't there when we need or want it most. I'm thinking about when someone cut me off on the freeway recently…where was the patience, kindness, or self-control I needed more at that moment?
Our Helper
Trying to grow the Spirit's fruit by our own effort is like trying to grow a palm tree in Antarctica — we just don't have the right elements to make it happen.
Since we aren't able to produce this fruit on our own, we've been given a Helper to assist us in the process of fruit-bearing. If we desire to have lives that express the qualities of the Fruit of the Spirit, we need to continually yield ourselves to the Holy Spirit to grow them in us here and now — for only He can do such a thing.
It Takes Time
Just like physical fruit needs time to grow, the fruit of the Spirit will not ripen in our lives overnight. Like a successful gardener must battle against weeds to enjoy the sweet fruit they desire, we must constantly work to rid our lives of the "weeds" in our lives that want to choke out the work of the Spirit.
Staying Connected
Jesus didn't use the phrase "fruit of the Spirit," but he often mentioned fruit in his teaching. In John 15:5, Jesus said, "I am the vine; you are the branches. If you remain in me and I in you, you will bear much fruit; apart from me you can do nothing." The fruit is evidence of being connected to Christ, just as branches of a tree or a grapevine need to be connected to the trunk in order to bear grapes or apples.
"But the fruit of the Spirit is love, joy, peace, forbearance, kindness, goodness, faithfulness, gentleness and self-control. Against such things there is no law."
Galatians 5:22-23
Creative Challenge
We all want to have more fruitful lives, but sometimes we forget this connection and need gentle reminders. So this month, we are having a Creative Challenge focused on fruitful lives! This is YOUR chance as a creative to dive into this topic on the Fruit of the Spirit and share your creations. May this challenge inspire all of us to stay connected to the One who will bring forth the harvest we desire.
FALL creative CHALLENGE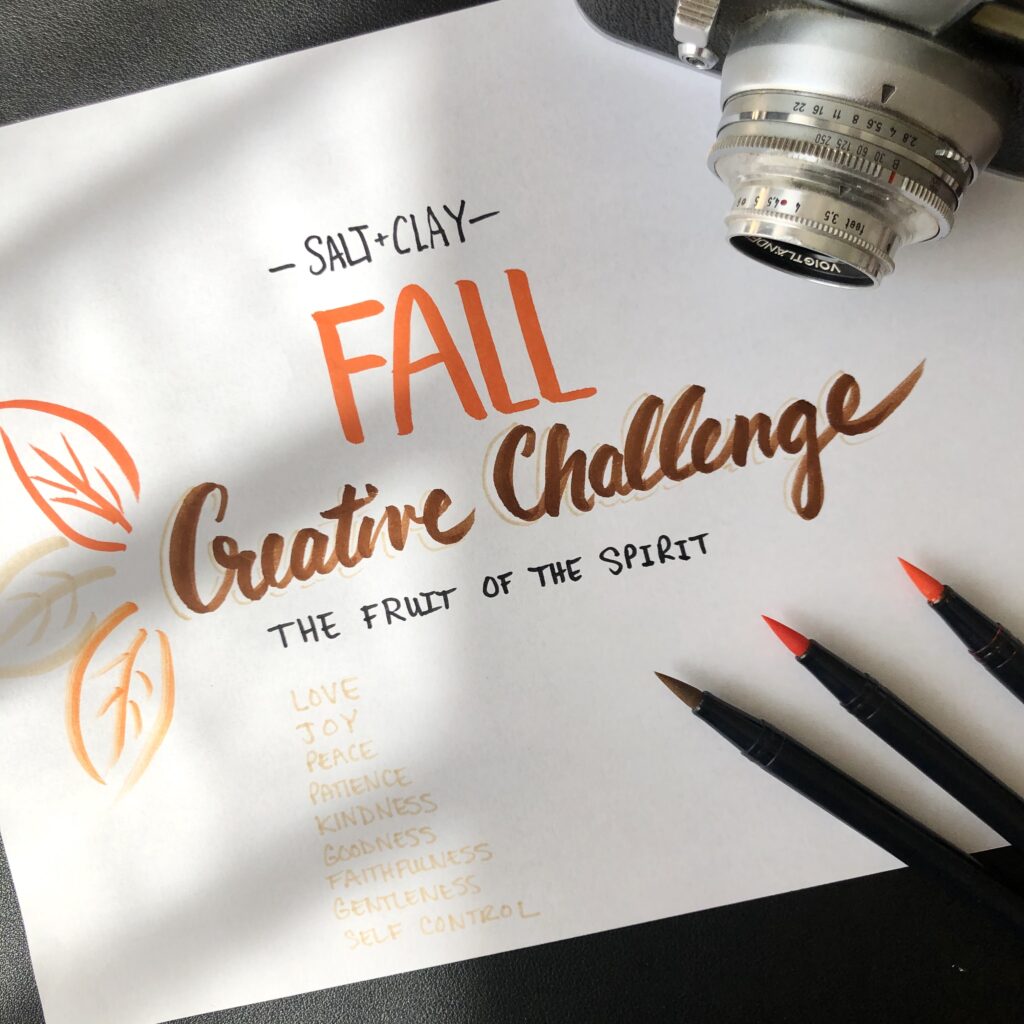 It's time for our FALL CREATIVE CHALLENGE!
For this challenge you can focus on one or some or the entire verse, it's totally up to you!
RULES:
All Mediums Welcome! ??✒️??
Post your work and tag @salt_clay on Instagram AND use the hashtag #saltclayfall
Be sure to write how your piece relates to the Fruit of the Spirit
Entries Due Wednesday, September 30 at MIDNIGHT PST
Your work WILL be featured by us in our stories!
Winner will receive a spotlight feature on our blog and social, and they will get some Salt+Clay goodies in the mail!
Even you're not submitting an entry, be sure follow the hashtag #saltclayfall and encourage your Salt+Clay sisters!
Now let's get to work – Can't wait to see what you create, ladies – let's get growing!