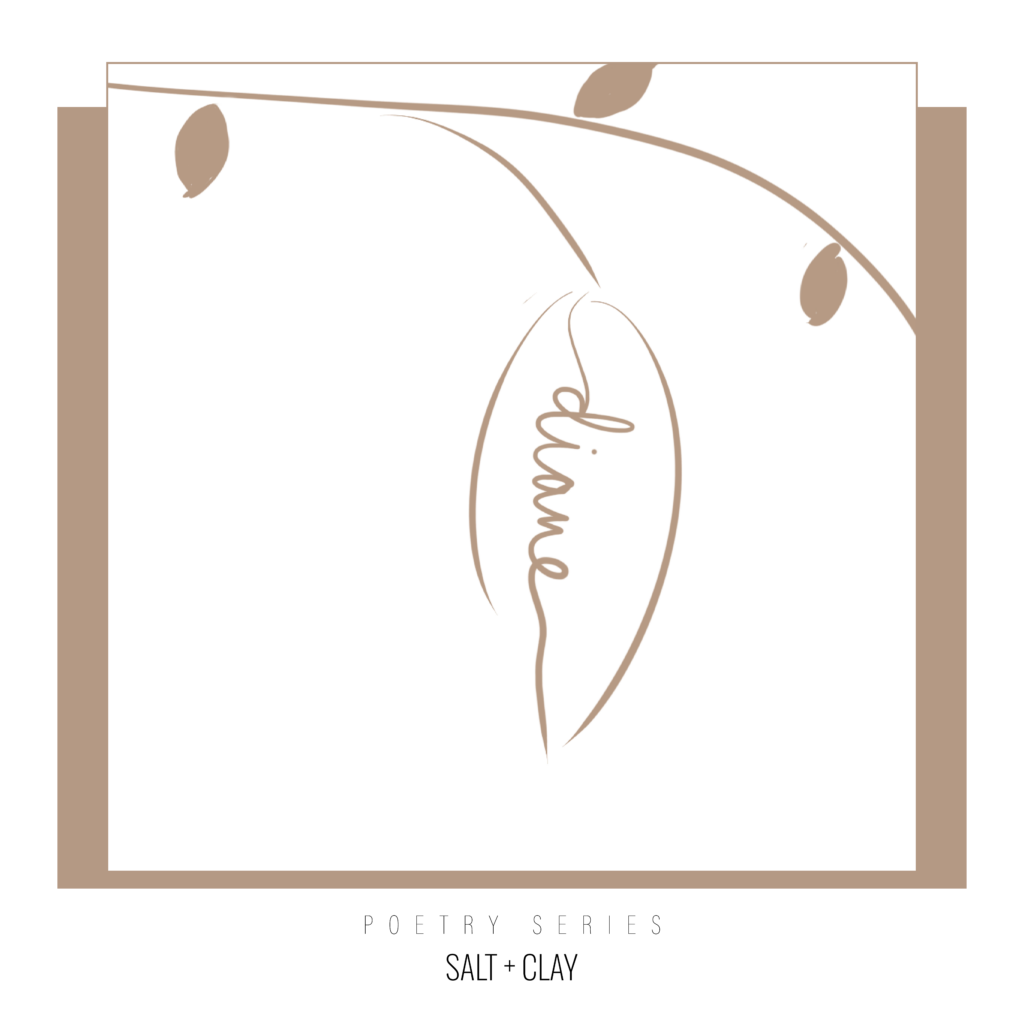 We here at Salt+Clay are constantly amazed by the gifts and talents of the women within our little community and we love to champion these women in any and every way we can. As our S+C family continues to grow we've noticed an increasing number of poets. We thought it would be fun over the next few weeks to highlight some of the poetry from these talented women.
The first poet we are highlighting is the lovely Diane Mann. Diane lives in Southern California with her husband of 36 years. She's mom to four now-grown children and has six grandchildren. She works part-time as a court reporter, and enjoys hiking, writing (check out her book called Invited, A Celebration of Spiritual Direction), retreats, and listening prayerfully to other women as they seek deeper intimacy with God. Her reflections and poetry can be found at her blog Prone to Wonder.
We asked Diane a few questions about how she began writing, what inspires her and how her poems develop. We hope that you will enjoy getting to know Diane and maybe you'll be inspired to try your hand at writing a little poetry.
What advice would you have for a beginning poet?
I would pass on the best advice I've received, which is to start with your first thought. Wherever you dive in, trust that something will be revealed and come to you. A poetry teacher at a retreat in Zion I attended had us sit in front of a glorious rock formation. He took his hat off and looked at it with reverence for some time before he started teaching. He encouraged us to just begin with what you observe at that moment, in you or around you. My poem began, "Hats off, heads bowed," then went from there. That lesson led to more freedom in my writing. Also, my advice for a beginning poet would be to learn to enjoy your own "voice." Last summer I wrote by hand in my journal a poem a day, just for me, without judgment of it, just learning to enjoy, learning to lean in and listen, hear the rhythm, the levity, the sacredness of whatever was going on inside me. Again, this is something that led to more freedom as I began to love some of the poems I wrote and sometimes even loved writing them. And you know what love does–it makes fear flee!
What was the inspiration for this poem submission?
I chose this poem because it encompasses such a range of emotions. I'm telling a story, a happy one, yet grieving because I can't share the fantastic news with my mom, who had just died. I think many people can relate to that longing to communicate with a loved one who is no longer here yet not being able to. It is my story, and I invite others in to listen. They rejoice and grieve with me, but it's likely their spirit will be stirred to reflect on their own experience. My favorite poems are ones that minister to me, even after I've written them and ones that the readers respond to in different ways, often being moved in some way that I didn't attempt to orchestrate. I am looking inside me, showing what is there with vulnerability, and I hope it helps others be brave to look inside themselves.
Where do you get your ideas or inspiration?
Many times poetry will stem from my journaling, prayer, and times of reflection. There will often be something I witnessed that sits with me. I may begin writing a reflection about something meaningful then decide the thoughts would be better expressed in poetry. If there is an upcoming celebration, as I anticipate ahead of time what or who is being celebrated, I may write a poem around that. When I am hiking or witnessing the magnificence of nature, sometimes words will rise up in response to the beauty I see. If I get to witness God's hand at work in the life of another, I may be led to write about that. Sometimes I will compose simple choruses because some words settle in me and beg to be turned into something.
How do your poems develop?
I never begin knowing where a poem will end. I just know there is something inside I need to express. Sometimes there's much stewing and giving birth to the poem is difficult, as shown by the many scribbles on my pages, while other times the words may flow with ease. The process becomes a journey, and the writing may take some unexpected turns. I will look back over it to see whether there are some places I want to flip words around or choose where a line ends and the next begins and play with it some. I may see something, in the beginning, I want to include in the end. It helps me to read it aloud, to hear the rhythm I've created, and it's especially nice when a piece is completed and a loved one reads it back to me! It becomes a real thing.

Ephesians 2:10 says, "For we are his workmanship, created in Christ Jesus for good works…" The Greek word used here for "workmanship" is "poema." You and I are God's poems, containing something that He wanted to express Himself to this world. This expands my mind and heart in such a way I can't describe it. Maybe I will write a poem someday about being God's poem!
The Next Time It Rains
I received good news
Really good news
Balloon-releasing
Jump-up-and-down news
I was cured of hepatitis C!
I had told my mom
Of the preliminary results
Months before —
The chances-are-I'm-cured news
She had cried happy tears
Expressing her joy
But this was final
The treatment had worked
The virus was gone
My blood was clean
As though I never was infected
I wanted to call her
But her funeral was just days before
She was no longer here
A friend said
Talk to her anyway
It will seem as though
She hears
I did
I picked up the phone
And dialed her number
Three tones
A woman's voice
The number you have dialed
Is no longer in service
Please check the number
And dial again
Over and over she said
The same words
As though I hadn't heard
Them the first time
Or the second
Above the recording
I spoke
My sobs chopping the words
Into pieces
Hi, Mom. I just wanted to tell you
Some Very Good News
The final results are in
I have been declared CURED!
I knew you'd be happy about it
So just had to tell you
I'm talking as though
You can hear me
And I hope you can
Thank you for being happy for me
I spoke as though she heard
It was a sunny day
But to myself I said
Next time it rains
It will be as though
She got the news
And is shedding happy tears
From heaven
Next time it rains
It will be as though
She got the news
It will be as though
I'll know
Diane Mann – 2015
Is there someone you wish you could share something with who is no longer with you?