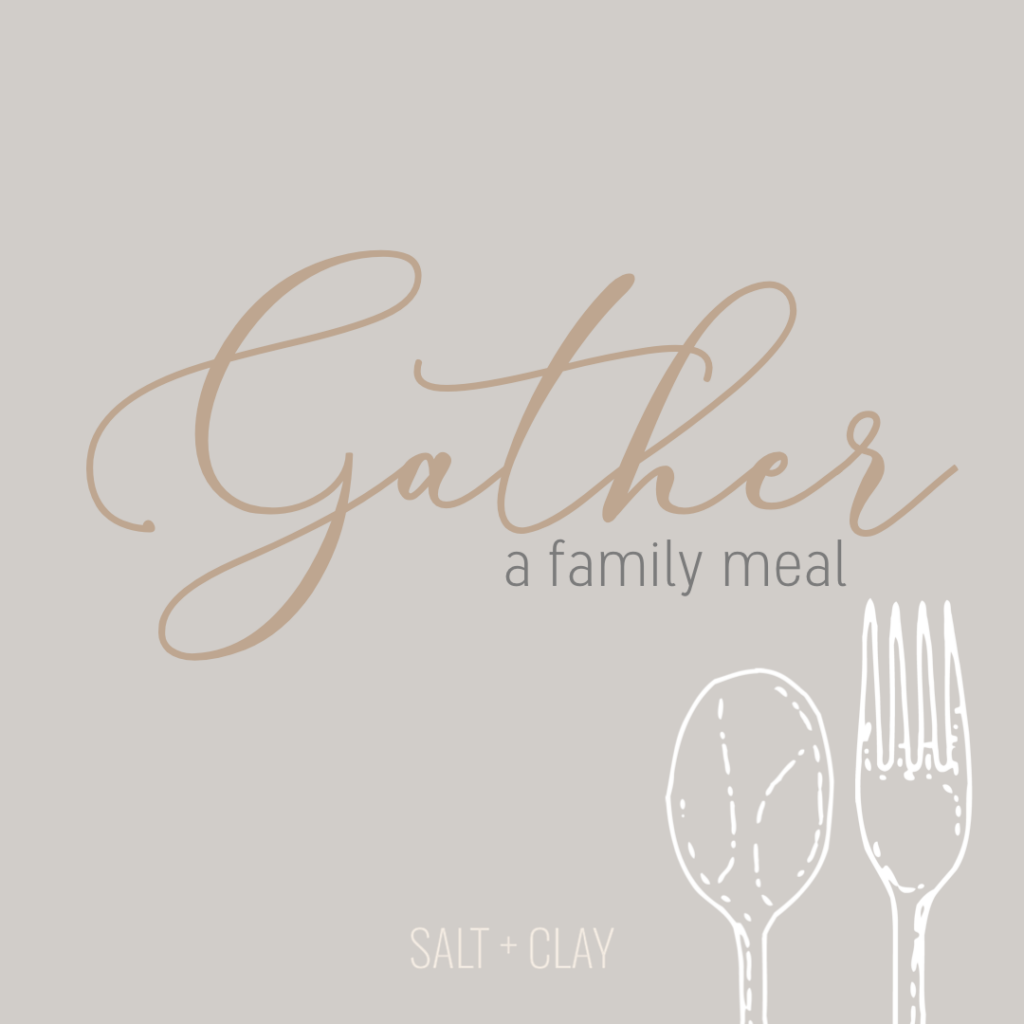 Hi Friend,
We've all heard the famous quote, "an apple a day will keep the doctor away." I am a firm believer in "a family who eats together, stays together." What a unique time in history to be able to finally execute a family meal! Excuses aside, activities paused – we are home.
Privileged, I grew up in a family that spent lots of time together. We gathered around the table multiple times a week. Our family meals were not of the elaborate type, but more so like the canned beans or take out kind. I don't recall anything being created "homemade", with the exception of dad's favorite meatloaf. It's not what I ate that recalls the memory; it's the intentional time that my parents made. As I got older, this obviously was not a frequent occurrence, however, dad made sure we had a family night where we all ate and did an activity together as a family.
Our culture has taken a major shift in forgetting family time. It's more about answering those last-minute emails, closing that last deal, or scanning social media. Teens, adults, and even young kids are eating with a fork in one hand and a phone in the other. Where did we lose family mealtime? Or am I naive to think it was something everyone once held dearly? Now more than ever, God is gifting us the ability to be intentional with our families. There's no better way to be intentional than to craft a mealtime that puts us face to face with those we hold so dearly.
Let's get to the reality of mealtime. The dinner hour is more often called the "witching hour" when you have young kids. The thought of gathering little's around a table and having an enjoyable conversation is a joke. Though I do not have teenagers, I can imagine the same goes for this age of life. Let's go ahead and toss out the idea that a family meal needs to be anything of order, sophistication, or class. Most family dinners consist of my kids complaining about something, there's not enough sauce, or what is this black spot on my chicken?
Looking beneath the surface of what I see as a hot mess of dinnertime, there is an intentionality about all of us sitting together. As a family, we are crafting a routine that will be ever-present to my kids as they grow their own families. Whether it's in the kitchen, at the kitchen table, on the porch steps or laying on the floor eating pizza out of a box…we are together. And every now and then you can catch glimpses of God's intentionality with family. The way it was meant to be. Laughs are shared, encouraging words are spoken, our meals are blessed and my kids ask for seconds!
The real hope for a family meal is to spend time sharing about the highs and lows of your day, breathe together in the same space, look one another in the eye, say "I see you" and I hear what you are saying. I am present. It's a rhythm we are creating, space we are cultivating to allow our family to feel safe in expression and atmosphere. In the hustle and bustle of today, let's remember why God created us all. To be in community with one another – starting with our family.
"And let us consider how we may spur one another on toward love and good deeds, not giving up meeting together, as some are in the habit of doing, but encouraging one another—and all the more as you see the Day approaching." Hebrews 10:24–25 NIV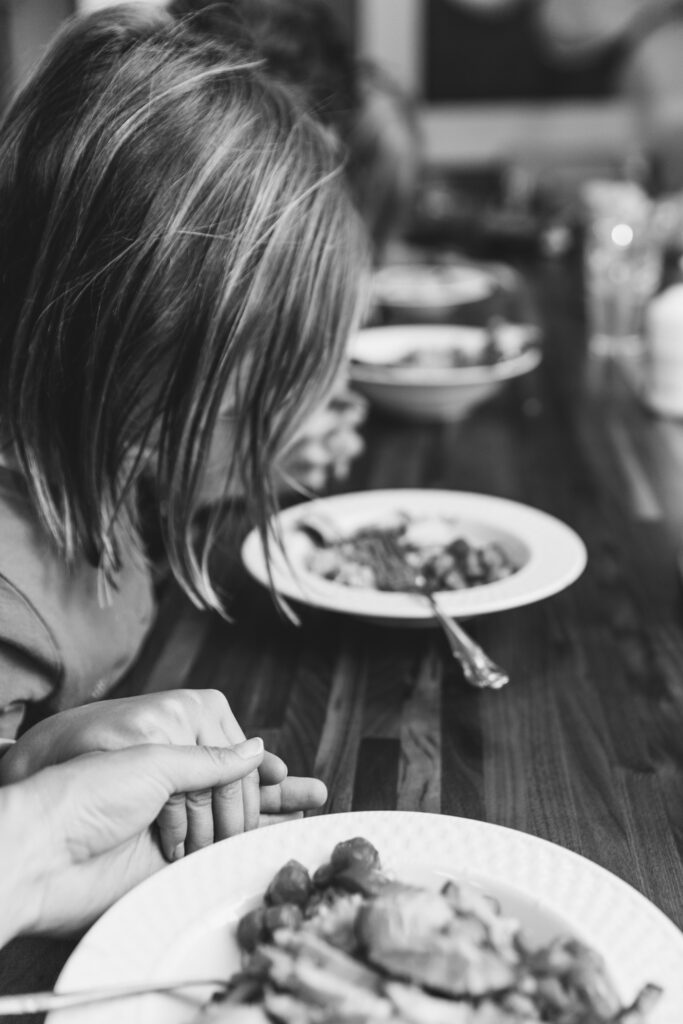 Tips for Crafting an Intentional Family Meal
Thank your Creator – Jesus has gifted us this time together.
Media Drop – Have a basket or a special place to leave phones and devices.
Don't over complicate things – order pizza, use disposable plates (we don't need to save the planet every single day, sometimes sanity wins).
Family Dish & Fine China – Maybe you eat with paper plates all week and this meal you prepare the family's favorite dish and do use the fine china.
Create a theme – Wind down Wednesday, Taco Tuesday, Friday Family Fun. Make it a unique time that your family looks forward to gathering together.
Location – Gather in any spot. No need to have specifics here, just eat together.
I See You – Look one another in the eye and be intentional. Ask questions.
Family mealtime is life-giving to me. It's a routine. Habits that open doors to conversations and helps us do life with our village. Start with just one night a week, then strive for two and as schedules bend, be intentional about what you want your kids to remember when they leave your home. What traditions or memories do you want to set for them?
And well…if you need to hide in your closet after dinner with a bottle of wine. I won't judge. I've been there. Life is hard but being intentional doesn't have to be.
Heather Warren Salt+Clay Magazine