I am a giver and I love the art of gifting. Creating or sourcing the perfect gift for someone I know and love brings me so much joy. And oh how I love wrapping presents. It is one of my favorite creative outlets, but I know not everyone feels as I do. Do you love wrapping or is it a chore for you? Maybe I can help move those landing in the chore category over to the other side–I'm going to make it easier for you.
When it comes to giving a gift, the way it is presented matters. Taking the time to wrap your gift beautifully shows care and thoughtfulness, beyond the act of giving the gift itself. But there's no pressure here, it doesn't have to be a complicated or fancy affair with bright and gaudy wrapping paper festooned with curled ribbons and giant bows. In this time of trending minimalism, simple is better.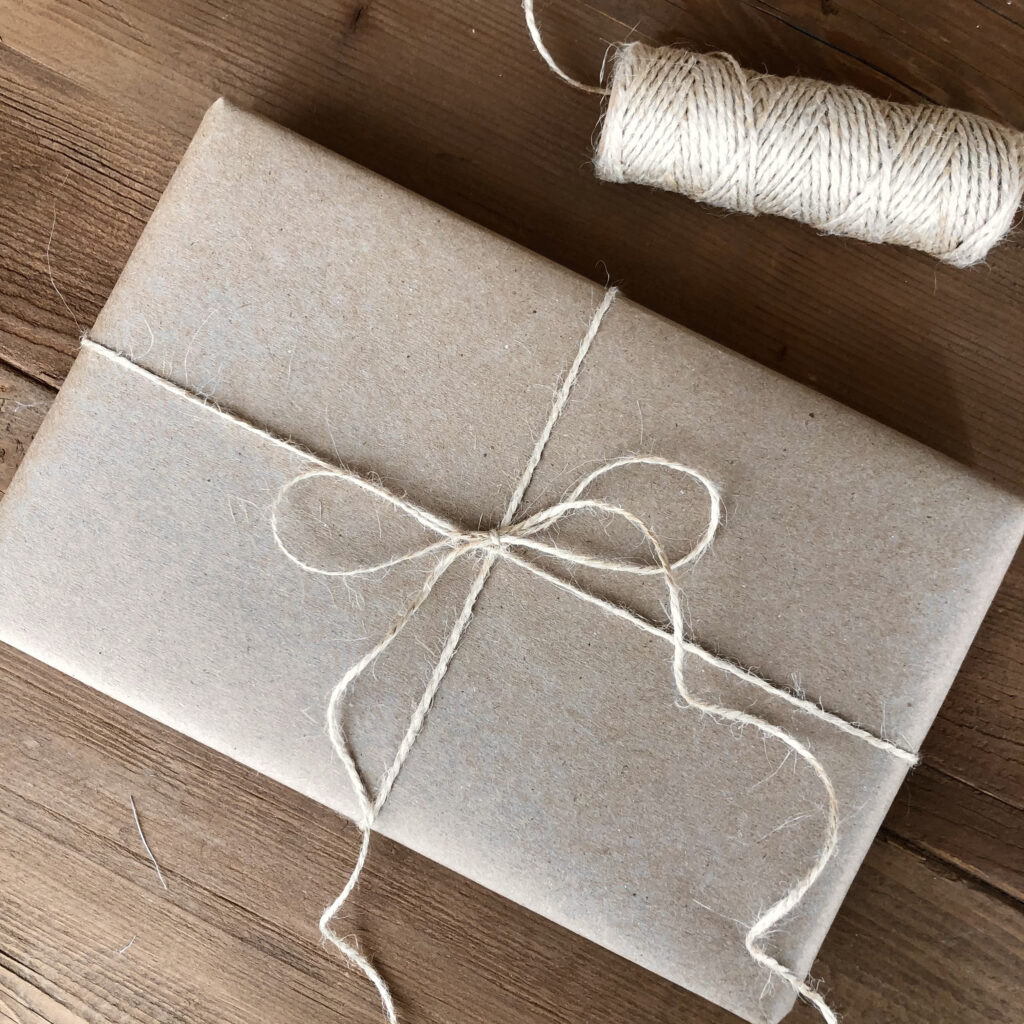 Simple brown paper packages wrapped with twine make the most lovely gifts. They take us back to a simpler time, when life was more calm and not so busy. They look stunning under any tree because the natural brown paper compliments the dark green or flocked white beauties resting in our living rooms, and they fit most decorating styles from modern farmhouse to traditional.
Instead of those pricey ribbons and sticky bows that always fall off, you can opt for simple twine. Natural colored twine is beautiful on it's own, or you can use a colored twine. Right now I'm loving black but dark red or deep forest green are lovely choices as well.
Leave it plain if you're hand delivering the gift, or add a sweet and simple tag that compliments the packaging.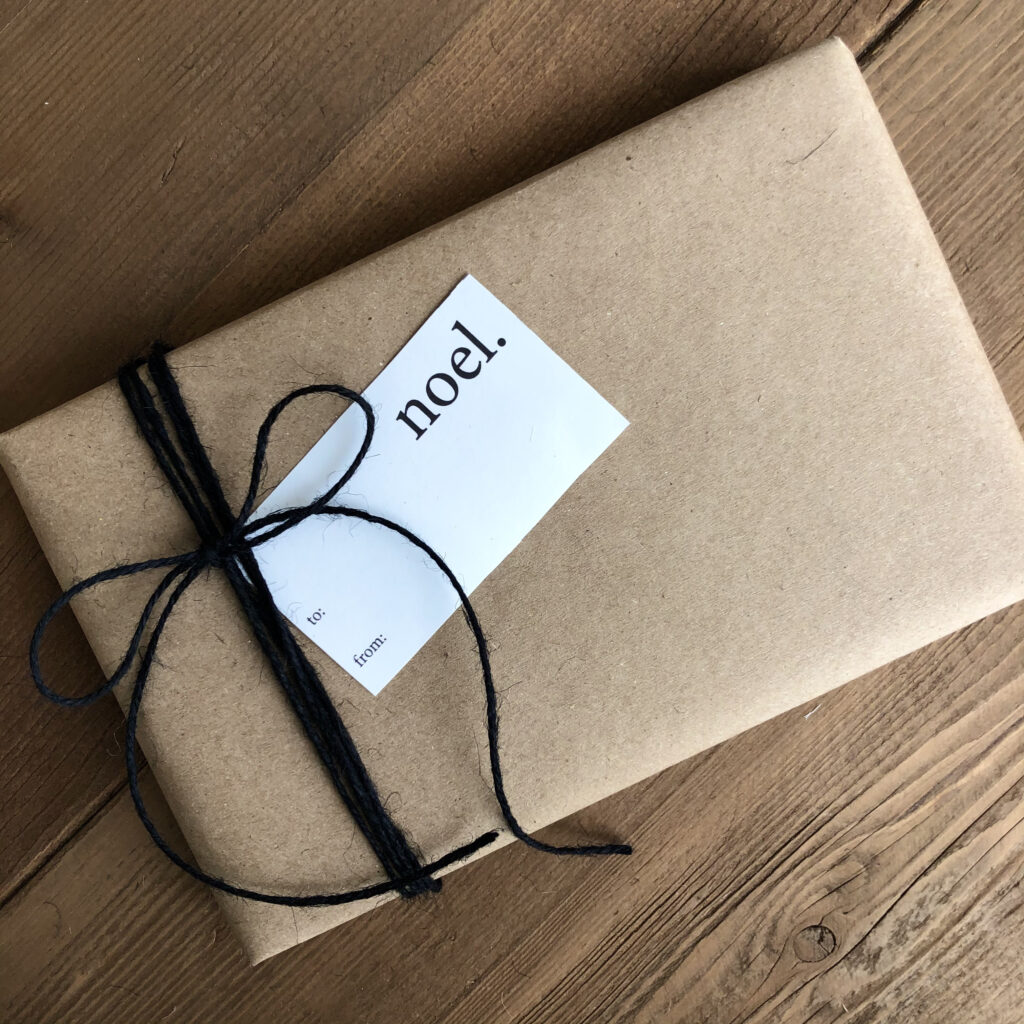 If you're creative, try your hand at lettering right on the package with a marker or paint pen — I love using Christmas song lyrics to brighten up the packages. But remember, simple wins every time.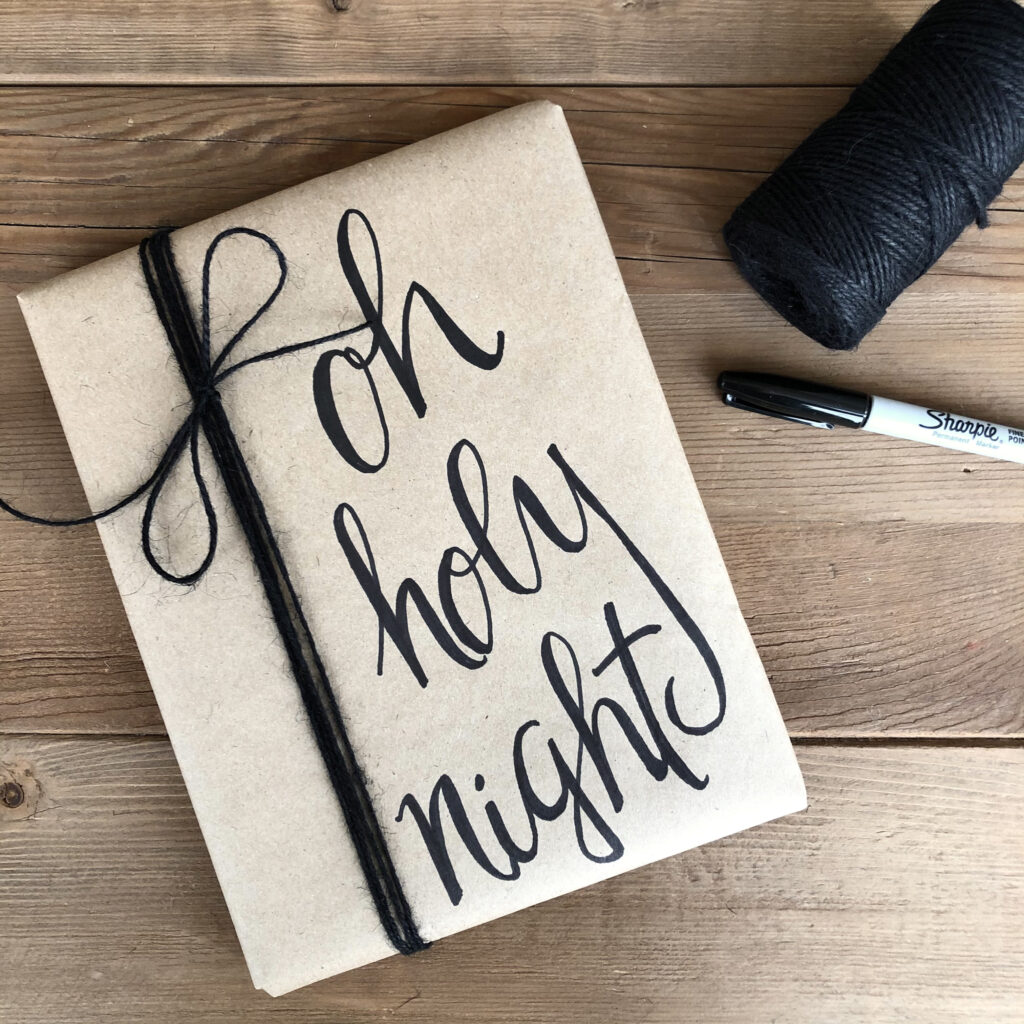 You can add embellishments if you like, but they aren't necessary. I love to embrace the natural appearance of the package and add plants! My favorites are sprigs of rosemary, a snip of my Italian Cypress, or a small twig of eucalyptus.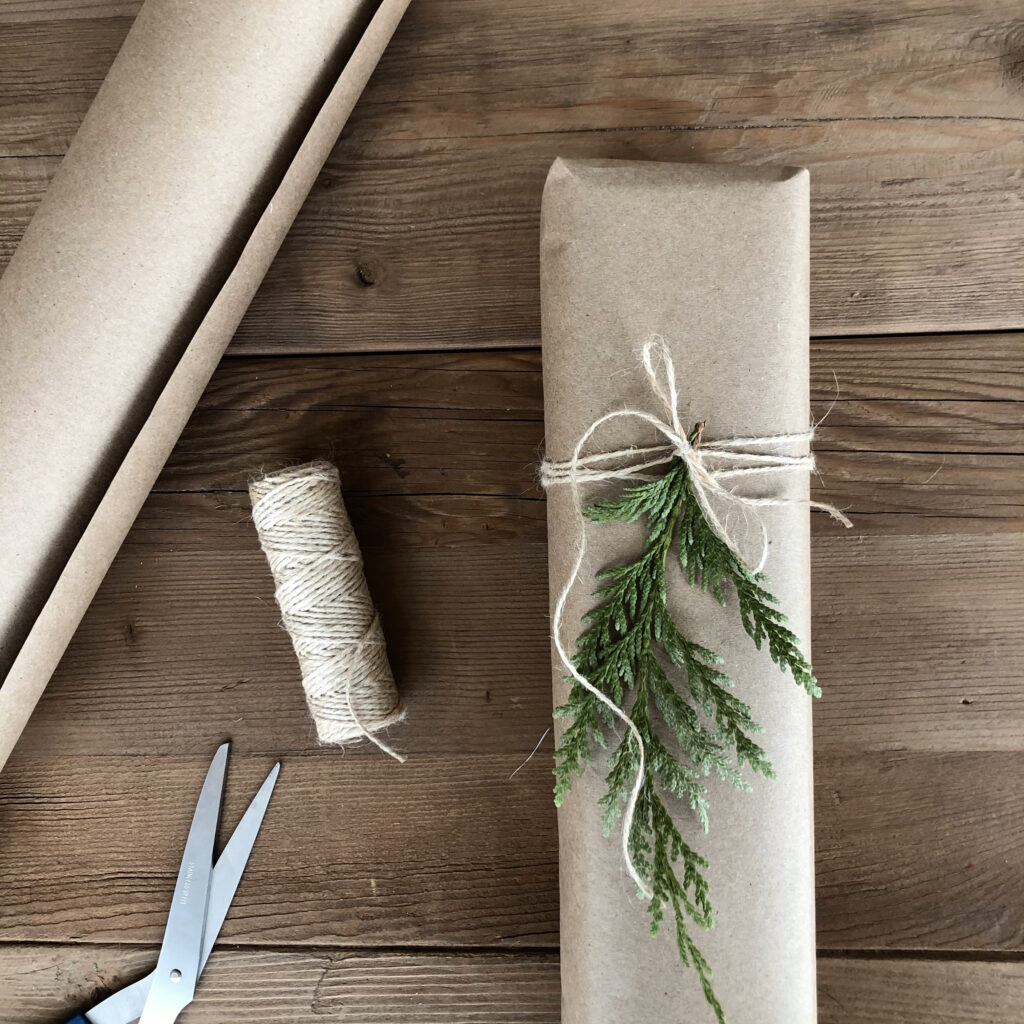 Are you more of a bag person? While I love wrapping with paper, I do sometimes use gift bags. But no surprise here, I go for the brown Kraft bags as well. Again, simple and timeless. You can use a basic white or natural tissue, or pop it with a color (still loving black here). You can embellish with a little bow of twine, a tag and a sprig just as you would the paper packages.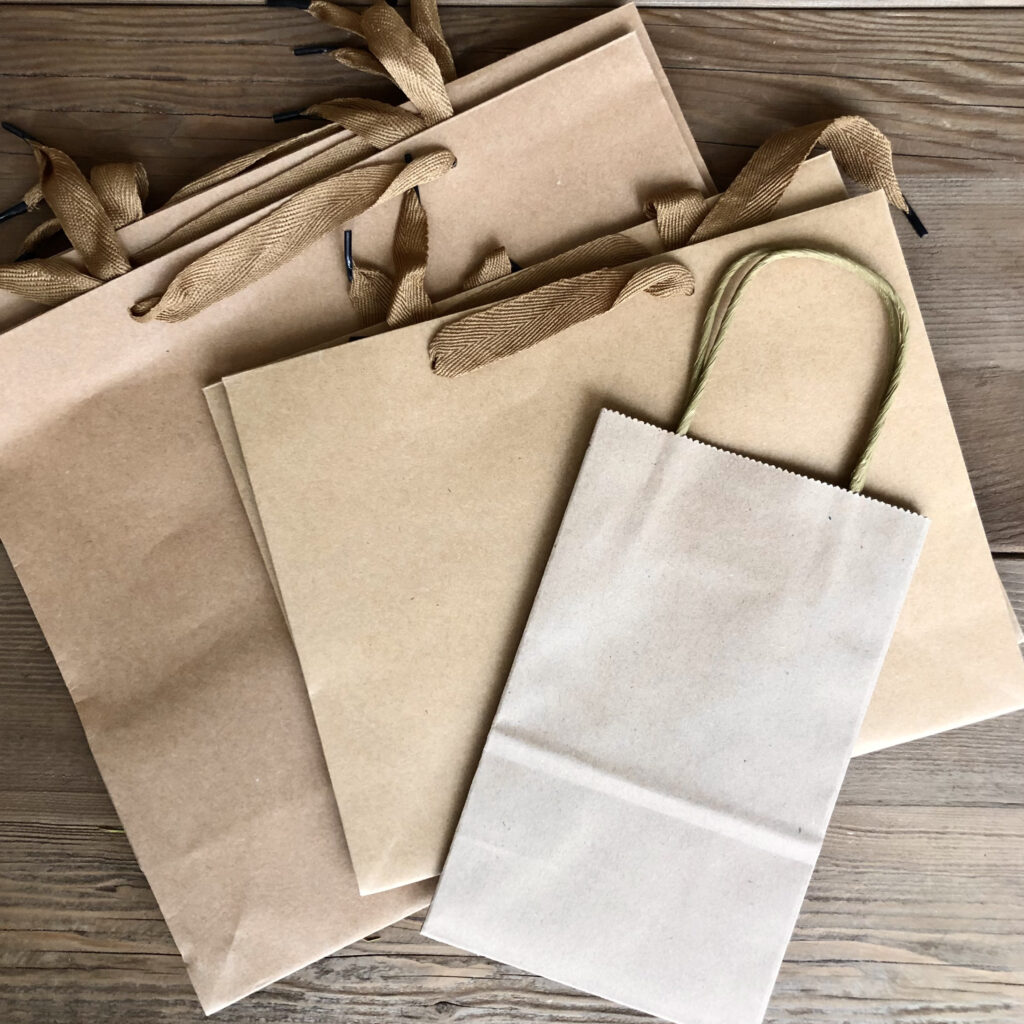 You can also write on the bags and get creative. The possibilities are endless.
Not only will these presents look beautiful and bring joy to those who receive them, they will save you money from having to buy expensive wrapping paper, ribbon and bows just for Christmas. Twine and Kraft paper (and Kraft paper bags less than a dollar each) are much more affordable and are timeless – you can use them for all your gifts throughout the year. Win-Win.
Just for You – A Free Printable!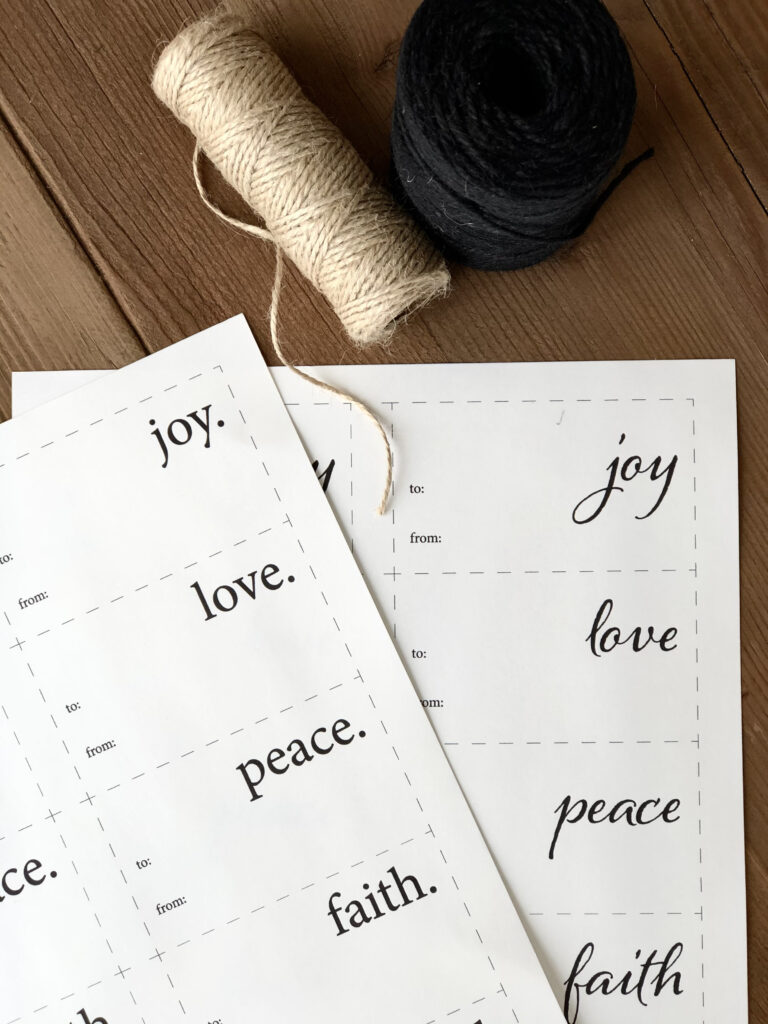 Here is a free printable of the tags pictured above! Just download the PDF and print the ones you like (two styles to choose from) on cardstock or other heavyweight paper.
Amazon Supply Links
Danielle Stickel
Creator of the things, doer of the stuff, co-founder of Salt+Clay. Danielle's background is both creative and technical, so we pull her in every direction. Thankfully she has a passion for lifting up others and loves doing all things for Him! You can find Danielle on Instagram
@stickelberry
2020-03-10T23:48:07+00:00
Creator of the things, doer of the stuff, co-founder of Salt+Clay. Danielle's background is both creative and technical, so we pull her in every direction. Thankfully she has a passion for lifting up others and loves doing all things for Him! You can find Danielle on Instagram @stickelberry
https://www.salt-clay.com/testimonials/danielle-stickel/