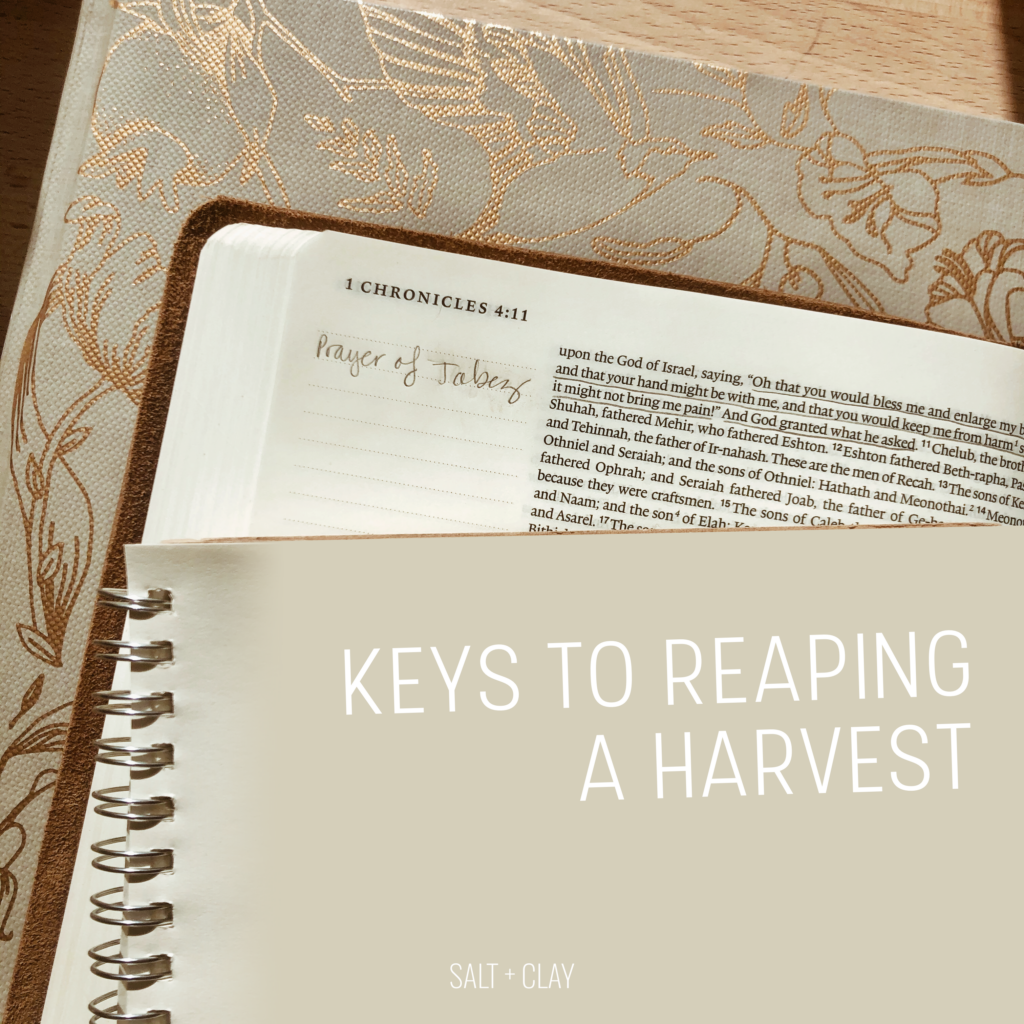 About a year ago, I sensed the Lord calling me to go deeper with him. For quite some time, I had been feeling overwhelmed with my current circumstances. The truth is that I was burnt out in ministry and completely exhausted – so much so that every other area of my life was suffering. My husband and I had been trying to get pregnant for nearly a year and a half and my heart was aching over it. And, I was healing from a complicated, broken family relationship. To say the least, I had a lot going on. To be honest, I didn't know where to start or what to do, but to cry out to God. I had a vision for my future and quite frankly, it didn't look anything like where I was in that moment. What I saw in my vision was a harvest, but in the current moment, all I saw was a barren wasteland.
Breaking Through
One day I went through some of my old books and came across one that I had never read before, "The Prayer of Jabez: Breaking Through to the Blessed Life" by Bruce H. Wilkinson. It's a short read and I finished it in just a few days. If you've never studied the story of Jabez, he's a very minor character in the Bible, yet what God did in and through his life was powerful.
1 Chronicles 4:9-10 "Jabez was more honorable than his brothers. His mother named him Jabez, saying, 'I gave birth to him in pain." Jabez cried out to God of Israel, "Oh that you would bless me and enlarge my territory! Let your hand be with me, and keep me from harm so that I will be free from pain.' And God granted his request."
What moved me from this brief passage in scripture was that Jabez very simply asked God to bless and increase his life, watch over him, protect and keep him from pain and harm. And, God answered him! Right then and there, I was reminded of the power of asking God and activating my faith regardless of the appearance of my circumstances. After all, God is a creator and calls into being things that were not (Romans 4:17).
James 4:2 "You do not have because you do not ask God."
Matthew 7:7 "Ask and it will be given to you; seek and you will find; knock and the door will be opened to you."
So I got really serious about my prayer life, took the Word of God and started speaking it over my marriage, my family, my ministry and everything concerning my life. Fast-forward to today, I am sitting here writing this article very pregnant with miracle twins. God didn't just grant me one baby, but two! So much of my life has been rearranged that it looks completely different compared to where I was a year ago. More prayers have been answered and miracles have manifested in my life more than ever before.
Moving Forward
If you are finding yourself stuck in a barren wasteland like I was about a year ago or just waiting for your increase to come, don't forget that it is not God's intention for you to stay where you are forever. He desires to move you forward in his perfect timing. Where you are today is only a season. However, there is a purpose where you are and things that God wants to teach you in the waiting. He desires to build your trust and faith in him. If you allow him access to do the groundwork in your inner world, he will reshape your outer world.
Here are a few keys that I found essential in reaping a harvest and stepping into increased blessing and provision:
Key 1 – Seeking the Face of God
The most valuable lesson I've learned in my lifetime came out of this past season of waiting. It's this — you can lose the entire world, but if you have Jesus, you've won the battle! Everything you will ever need or want is found in him alone. When you allow Jesus to be your source, and your everything, then he can build (or in my case rebuild) your life on a firm foundation.
I confess that I haven't always gotten this right. Too often, I have been tempted to seek the hand of God rather than the face of God. Blessing and provision are merely a byproduct of a love relationship with Jesus Christ. When we seek Jesus simply because we desire more of him, everything else in our lives fall into place and alignment. Desire can very easily turn into an idol so guard your heart.
Matthew 22:37-38 "Jesus said: 'Love the Lord your God with all your heart and with all your soul and with all your mind. The is the first and greatest commandment.'"
Key 2 – Remaining Planted in the Local Church
The Bible is clear that when we are planted in the House of God, we will flourish. It doesn't say that we need to serve on a million serve teams or ministries, but he does call us to commit and position ourselves in the local church. Never underestimate what God can do in your life through fellowship with other believers and community. Be expectant when you show up on Sunday's to worship and receive from God.
Psalm 92: 12-15 "The righteous will flourish like a palm tree, they will grow like a cedar of Lebanon; planted in the house of the Lord, they will flourish in the courts of our God. They will still bear fruit in old age, they will stay fresh and green proclaiming, "The Lord is upright; he is my Rock, and there is no wickedness in him."
Key 3 – Continuing to Sew Seed
When life gets hard and challenging, don't stop sewing your time, talent and treasure in faith. The Bible calls us not to grow weary in well doing (Galatians 6:9). There is a temptation to pull back or settle when your circumstances don't align to what God is calling you to, but I urge you to push forward and keep going! You will reap what you sew.
James 2:14-26 "What good is it, my brothers and sisters, if someone claims to have faith but has no deeds? Can such faith save them? Suppose a brother or a sister is without clothes and daily food. If one of you says to them, 'Go in peace; keep warm and well fed,' but does nothing about their physical needs, what good is it? In the same way, faith by itself, if it is not accompanied by action, is dead."
Key 4 – Staying Patient in the Waiting
There is a reason that patience is a fruit of the spirit. It doesn't always come naturally. But, I'm so thankful that the Holy Spirit empowers us in our time of need.
In the midst of waiting on God for my harvest, I was feeling discouraged one morning and I heard him speak to me very clearly. He said, "Ashley, not all fruit grows at the same rate." Immediately, I did a Google search (to fact check God of course – hehe!) and found out that Pawpaw trees take five to seven years to bear fruit. On the other hand, some berries only take a few weeks to bear fruit. Just like natural fruit, we need to expect that there will be variation of timing in bearing spiritual fruit.
Remember, God's timing is perfect and he will always come through for his children. It may feel like the very last second, but he will come through and deliver.
2 Peter 3:8 "With the Lord a day is like a thousand years, and a thousand years are like a day. The Lord is not slow in keeping his promise, as some understand slowness."