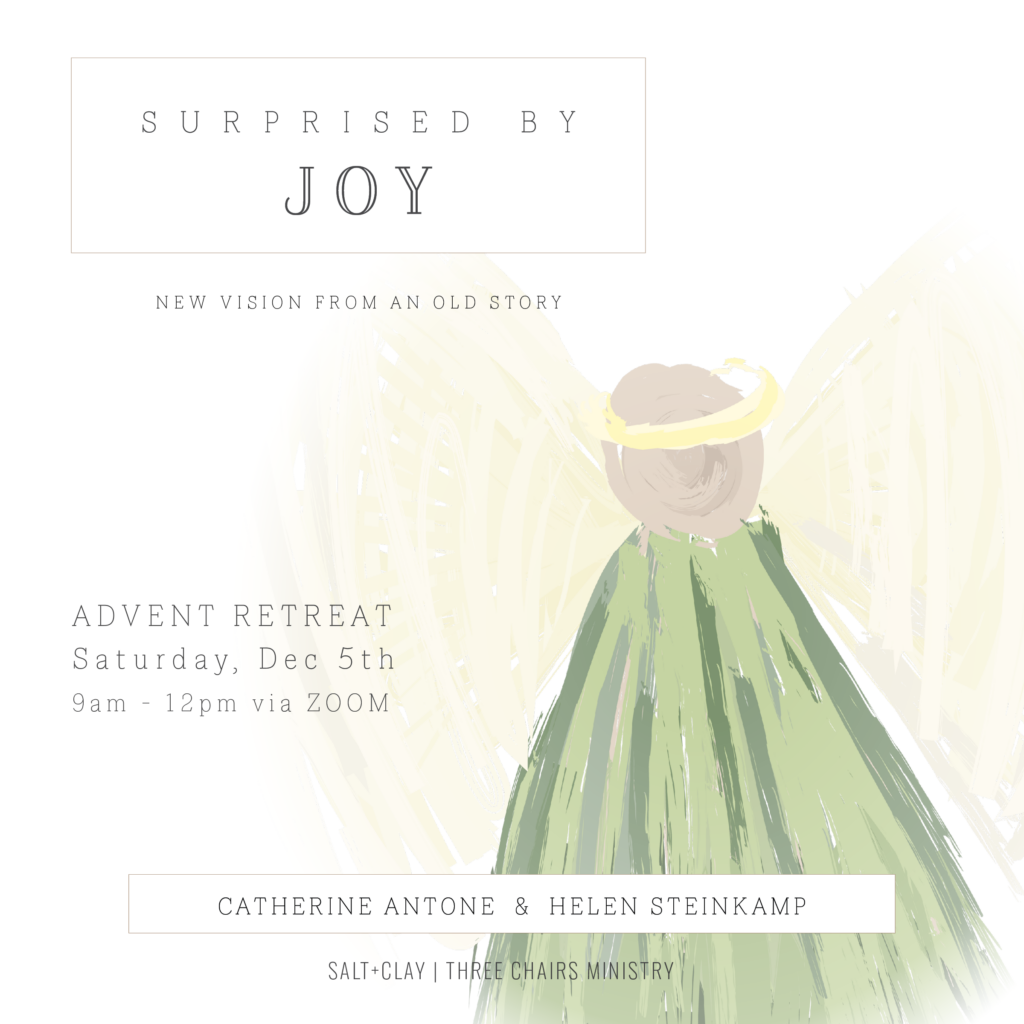 What is the state of your heart as you look towards this 2020 Advent season?
Maybe you are as energetic and merry as usual, or maybe you are not yet ready for the Christmas season. Either way, we have a gift for you!
We have crafted a special retreat designed specifically with you in mind.
*This retreat is presented by Salt+Clay in partnership with Three Chairs Ministry
Find comfort and connection with like-minded women.
Find encouragement by reflecting on God's word and in prayer.
Receive inspiration and joy from God as we trace the story of the first Advent through the eyes of two women.
Registration NOW OPEN!
Surprised by Joy! New Vision from an Old Story
Saturday December 5th, 9am-12pm PST via Zoom
Cost: $20
---
About Three Chairs Ministry
In 2011 Catherine Antone and Helen Steinkamp co-founded Three Chairs MInistry to provide quarterly one day retreats for women. Through one-day intimate retreats, Three Chairs offers the time, setting and space for women to pursue their relationship with God, reconnect with their own soul and to be renewed with focus and energy. The name Three Chairs was chosen for this scripture: Matthew 18:20 "For where two or three of you are gathered in my name there I am in the midst of you." The name also comes from the relationship of Father, Son and Holy Spirit in the Trinity. Catherine and Helen pray for each woman who participates in a retreat, that each will be blessed and refreshed. Follow Three Chairs on Facebook
Catherine Antone
Catherine worked successfully in the business world for many years, but when she met Jesus in her late 30's, He changed her heart and life's path. After several years of learning scripture, she served and led women's Bible studies. After serving on a church staff for several years, she entered Talbot Seminary where she received her Masters in Spiritual Formation and Soul Care. She currently leads women's retreats with Three Chairs Ministry and does spiritual direction with individuals. She and her husband live in Laguna Beach and love spending time with their married sons' families, and two grandchildren.
---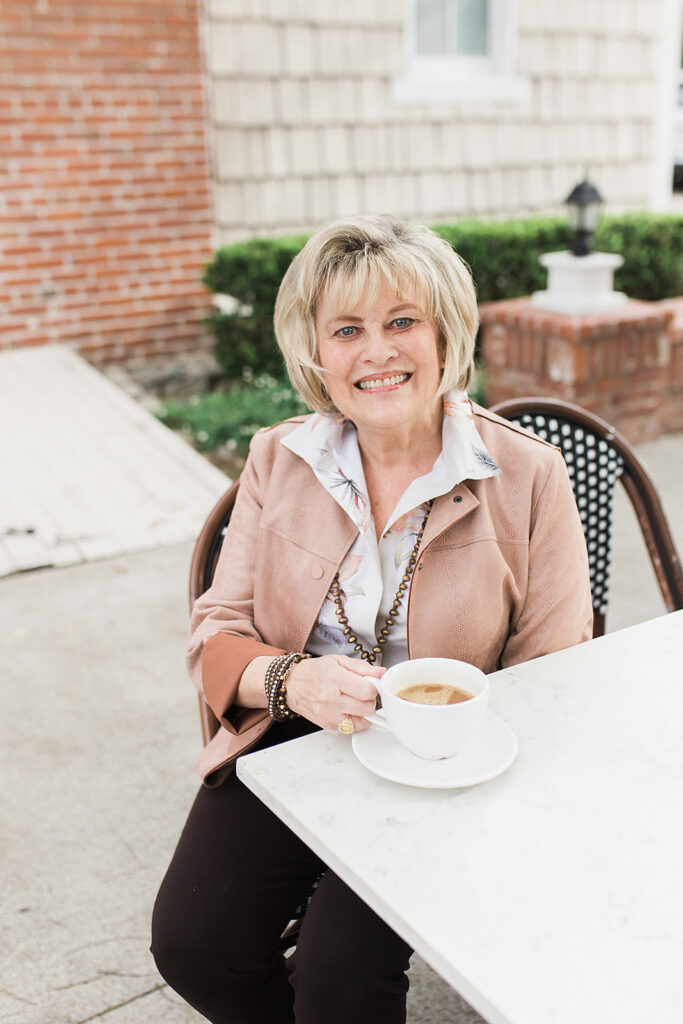 Helen Steinkamp
Helen has a background in ministry and business. As a young adult she served as a campus missionary and later served as a Women's Ministry Director in her church for 3 years. Seeking a deeper relationship with God, she pursued training in Spiritual Formation and Direction. She currently does spiritual direction with individuals, writes Bible Studies for Salt + Clay and facilitates retreats with Three Chairs Ministry. She and her husband enjoy their three married children and six grandchildren.
---
You May Also Like…
Advent Angel Verse Card & Easel