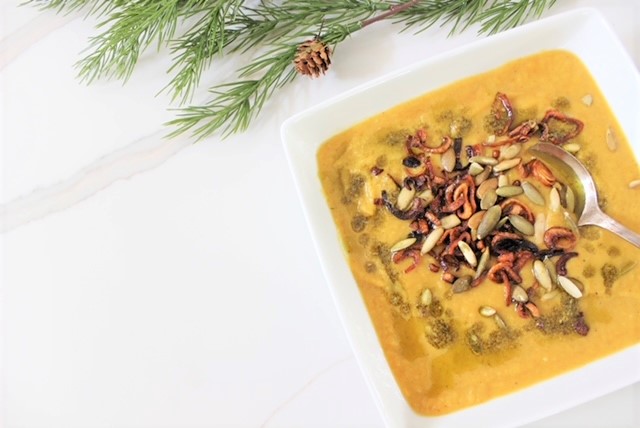 Over the next several weeks we are pulling together a collection of recipes that have been thoughtfully curated from meals that have been shared around our tables. These recipes are geared toward the cooler seasons. Comforting recipes that are like snuggling up in a cozy blanket, or sitting by a crackling fire. Food that is delicious, rich, and satisfying.
We pray that you will feel the goodness of God in his provision, and a sense of belonging. Where hunger is satisfied, and bonds are strengthened.
Curried Butternut Squash Soup
Ingredients:
4 Tbsp. butter
1 medium-sized onion, finely chopped
6 cups butternut squash, peeled and cubed
1 cup carrots, peeled and chopped
1 cup parsnips, peeled and chopped
2 tsp. fresh thyme leaves
1 ½ tsp. curry powder
½ cup dry white wine
4 cups chicken stock
½ cup heavy cream
Salt and pepper to taste
Garnish: toasted pepitas,
caramelized shallots or
garlic croutons are tasty as well.

Directions: Melt butter in a saucepan over low heat. Add onion and celery; cook over low heat covered 10 minutes or until limp. Add squash, carrots, parsnips, thyme, and curry powder. Cover saucepan and cook 10 to 15 minutes, or until the vegetables are tender.
Add the chicken stock and dry white wine and simmer for 20 to 30 minutes. Purée soup in a food processor until smooth. Return to the saucepan and add cream, salt, and pepper.
Ladle soup into warmed serving bowls and garnish with toasted pepitas, caramelized shallots, or garlic croutons. This soup can be made 2 days ahead. Reheat over a gentle flame before serving.
Serves 4 to 6
Recipe courtesy of Shannon Davidson